Passing Comments
7th April 1944
Page 16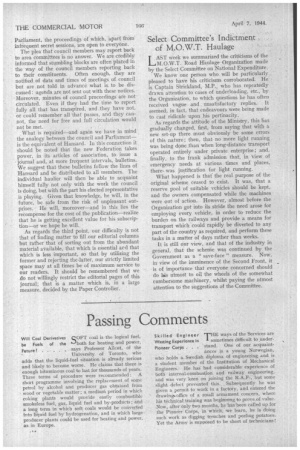 Page 17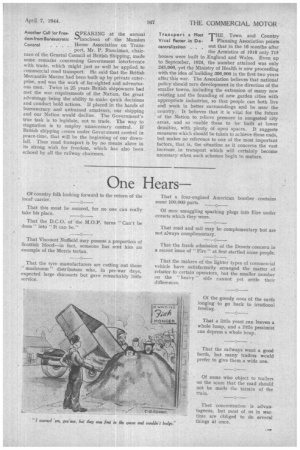 Page 16, 7th April 1944 —
Passing Comments
Close
Keywords :
Coal
,
Sedimentary Rocks
,
Energy
,
Fuels
,
Chemistry
,
Economic Geology
,
Geology
,
Bituminous Coal
,
Sub-bituminous Coal
,
Liquid Fuels
,
Coke
,
Coal Gas
Will Coal Derivatives OFT coal is the logical fuel,
be Fuels of the 'N-Jboth for heating and power, Future says Professor Allcut, of the University of Toronto, who adds that the liquid-fuel situation is already serious and likely to become worse. He claims that there is enough bituminous coal to last for thousands of years. Three terms of procedure were recommended : A short programme involving the replacement of some petrol by alcohol and producer gas obtained from wood or vegetable matter ; a mediurn period in which coking plants would provide easily combustible smokeless fuel, gas, liquid fuel and by-products ; and a long term in which soft coals would be converted into liquid fuel by hydrogenation, and in which large producer plants could be used for heating and power, as in Europe. Skilled Engineer THE ways of the Services are Wasting Experience in I sometimes difficult to ,under Pioneer Corps . . stand. One of our acquaint ances is a young Norwegian, who holds a Swedish diploma of engineering and is a student member of the Institution of Mechanical Engineers. He has' had considerable experience of both internal-combustion and railway engineering, and was very-keen on joining the R.A.F., but some slight defect prevented' this. Subsequently he was given a permit to work in a factory, and entered the drawing.office of a small armament concern, where his technical training was beginning to prove of value. Now, after only two months, he. has been called up for the Pioneer Corps, in 'which, we learn, he is doing such work as digging trenches and peeling potatoes.. Yet the Army is supposed to be short of technicians ! SPEAKING at the annual luncheon of the Mansion House Association on Transport, Mr. P. Runciman, chairman of the General Council of British Shipping, made some remarks concerning Government interference with trade, which might just as well be applied to commercial road transport. He said that the British Mercantile Marine had been built up by private enterprise, and was the work of far-sighted and adventurous men. Twice in 25 years British shipowners had met the war requirements of the Nation, the great advantage being the ability to make quick decisions and conduct bold actions. If placed in the hands of bureaucracy and untrained amateurs, our shipping and our Nation would decline. The Government's true task is to legislate, not to trade. The way to stagnation is to employ unnecessary control. If British shipping comes under Government control in peace-time, that will be the beginning of our downfall. Thus road transport is by no means alone in its strong wish for freedom, which has also been echoed by all the railway chairmen.
Another Call for Freedom from Bureaucratic Control
THE Town and Country Planning Association points out that in the 18 months after the Armistice of 1918 only 715 houses were built in England and Wales. Even .up to September, 1924, the number attained was only 243,000, yet the Ministry of Health is now proceeding with the idea of building 300,000 in the first two years after this war. The Association believes that national policy should turn development in the direction of the smaller towns, including the extension of many now existing and the founding of new garden cities with appropriate industries, so that people can both live and work in better surroundings and be near the country. It believes that it is vital for the future of the Nation to relieve pressure in congested city areas, and so enable these to be built at lower densities, with plenty of open spaces. It suggests measures which should be taken to achieve these ends, but makes no reference to one of the most important factors, that is, the situation as it concerns the vast increase in transport which will certainly become necessary when such schemes begin to mature. Transport a Most Vital Factor In Decentralization . . .