WHERE TO FIND HAULAGE
7th April 1933
Page 73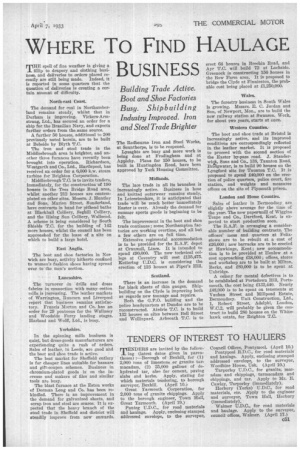 Page 73, 7th April 1933 —
WHERE TO FIND HAULAGE
Close
Building Trade Active. Boot and Shoe Factories Busy. Shipbuilding Industry Improved, iron and Steel Trade Brighter
THE spell of fine weather is giving a fillip to drapery, and clothing business, and deliveries to orders placed recently are still being made. Indeed, it ' is reported in some quarters that the question of deliveries is creating a certain amount of difficulty.
North-east Coast.
The demand for coal in Northumberland remains steady, whilst that in Durham is improving. Vickers-Armstrong, Ltd., has secured an order for a ship for. the Brazilian Navy, and expects further orders from the.same source.
A. further 50 houses, additional to 200 previously noted herein, are to be built at Bebside by Blyth The iron and steel trade in the Middlesbrough area is brighter, and another three furnaces have recently been brought into operation. Richardson, Westgarth and Co., Ltd., Hartlepool, has received an order for a (3,000 k.w. steam turbine for Brighton Corporation.
Middlesbrough T.C. is to invite tenders, immediately, for the construction of190 houses in the Tees Bridge Road area, whilst another 212 houses are contemplated on other sites. Messrs. J. Huntley and Sons, Marion Street, Sunderland, have contracts in hand for pithead baths at Blaekhall Colliery, Seghill Colliery, and the Rising Sun Colliery, Wallsend. A scheme is being considered by South Shields T.C. for the building of 142 more houses, whilst the council has been approached for the lease of a site on which to build a large hotel.
East Anglia., The boot and shoe factories in Norwich are busy, activity hitherto confined to women's 'fashion shoes having spread over to the men's section.
Lancashire.
The turnover in drills and dress fabrics in connection with many cotton mills is increasing. The leather markets of Warrington, Runcorn and Liverpool report that business remains satisfactory. Francis Morton and Co. has an order for 29 pontoons for the Wallasey and Woodside Ferry landing stages. Harland and Wolff, Ltd., is busy.
Yorkshire.
In the spinning mills business is quiet, but dress-goods manufacturers are experiencing quite a rush of orders. Sales of leather, in Leeds, are good and the boot and shoe trade is active.
The best market for Sheffield cutlery is for cheaper lines suitable for bazaars and gift-coupon schemes. Business in chromium-plated goods is on the increase and makers of files and similar tools are busy.
The blast furnace at the Eston works of Dorman Long and Co. has been rekindled. There is an improvement in the demand for galvanized sheets, and scrap iron and steel are scarce. It is expected that the heavy branch of the steel trade in Sheffield and district will steadily improve from now onwards. The Redbourne Iron and Steel Works, at Scunthorpe, is to be reopened.
Lysaghts are busy and more work is being done at Frodingham and at Appleby. Plans for 150 houses, to be built in Huntingdon Road, have been approved by York Housing Committee.
Midlands.
The lace trade in all its branches is increasingly active. 'Bosiness in hose and knitted outerwear remains steady, In Leicestershire, it is anticipated that trade will be much better immediately Easter is over. Already the demand for summer sports goods is beginning to be felt.
The improvement in the boot and shoe trade continues ; some Northampton factories are working overtime, and all but a few others are on full time.
Extensive regimental accommodation is to be provided for the R.A.F. depot at Cranwell, Lincs. It is intended to spend £90,000. The new technical college at Coventry will cost £13.5,475. Kettering U.D.C. is considering the erection of 123 houses at Piper's Hill.
Scotland.
There is an increase in the demand for black sheets of thin gauges. Shipbuilding on the Clyde is improving both as regards new tonnage and repairs.
Both the G.P.O. building and the police headquarters at Dundee are to be reconstructed. Airdrie T.C. is to build 132 houses on sites between Bell Street and Wellinyard. Arbroath T.C. is to erect 64 houses in Brechin Road, and Ayr T.C. will build 72 at Lochside. Greenock is constructing 156 houses in the Bow Farm area. It is proposed to bridge the Clyde at Finnieston, the probable cost being placed at £1,250,000.
Wales.
The forestry business in South Wales is growing. Messrs. E. C. Jordan and Son, of Newport, Mon., are to build the new railway station at Swansea. Work, for about two years, starts at once.
Western Counties., The boot and shoe trade at Bristol is increasingly active, and its improved conditions are correspondingly reflected in the leather market. It is proposed to proceed with the second section of the Exeter by-pass road. J. Standerwiqt, Sons and Co., 138, Taunton Road, BaIgwater, is to build 90 houses on the Lyngforcl site for Taunton T.C. It is proposed to spend £40,000 on the erection of police quarters, police court, fire station, and weights and measures offices on the site of Plymouth prison.
London and Home Counties.
Sales of leather in Bermondsey are slightly above average for the time of the year. The new paper/mill of Wiggins Teape and Co., Dartford, Kent, is expected to start production soon.
The R.A.F. is arranging a considerable number of building contracts. The officers' mess and quarters at Felixstowe are to be rebuilt at a cost of £26,000; new barracks are to be erected at Hawkinge, Kent ; new accommodation is to be provided at Henlow at a cost approaching £38,000; offices, stores and workshop are to be built at Milton, Berk, and £80,000 is to be spent at Uxbridge.
A colony for mental defectives is to be established at Portsdown Hill, Portsmouth, the cost being £132,440. Nearly £48,000 is to be spent on tenements at Vauban Street and Millpond Estate, Bermondsey. Unit Construction Ltd., 1, Robert Street, Adelphi, London, W.C.2, will probably be given the contract to build 280 houses on the Whitehawk estate, for Brighton T.C.
Tags
Locations
:
Exeter
,
Hartlepool
,
Portsmouth
,
Norwich
,
Leeds
,
Coventry
,
Sheffield
,
London
,
Liverpool
,
Bristol
,
Sunderland
,
Newport
,
Durham
,
Runcorn