Operating Aspects of PASSENGER TRANSPORT
7th April 1933
Page 69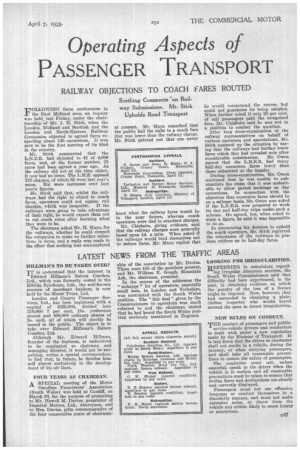 Page 69, 7th April 1933 —
Operating Aspects of PASSENGER TRANSPORT
Close
RAILWAY OBJECTIONS TO COACH FARES ROUTED
OLLO WING fares conferences in
the East Midland area, an inquiry was held, last Friday, under the chairmanship of Mr. .J. H. Stirk, when the London, Midland and Scottish and the London and North-Eastern Railway Companies objected to agreed fares respecting about 145 excursions. It was said to be the first meeting of its kind in the country.
Mr. Stirk commented that the L.N.E.R. had objected to 41 of 4,000 fares, and, of the former number, 23 rates had been agreed a year ago. As the railway did not at the time object, it now had no locus. The L.M.S. opposed 123 charges, of which 85 were last year's rates. Six were increases over last year's figures.
Mr. Stirk said that, whilst the railways had the right to object to coach fares, operators could not oppose rail charges, which was inequable. If the railways were going to take advantage of their right, he would expect them not to cut coach rates after learning what they were to be.
The chairman asked Mr. H. Mayo, for the railways, whether he could commit his companies to make no further reductions in fares, and a reply was made to the effect that nothing was contemplated knew what the railway fares would be in the near future, whereas coach operators were tied to standard charges.
Mr. Chisholm, giving evidence, said that the railway charges were generally based upon Id. a mile. When asked if the railways would bind themselves not to reduce fares, Mr. Mayo replied that
he would recommend the course, but -could not guarantee its being adopted. When further asked if only 20 per cent. of rail passengers paid the recognized fare, Mr. Chisholm said he was not in a position to combat the question.
After long cross-examination of the railway representatives on behalf of various operators and associations, Mr. Stirk summed up the situation by saying that the railways had further lower fares which they had revealed only after considerable examination. Mr. Owen agreed that the L.N.E.R. had many half-day excursion fares lower than those submitted at the inquiry.
During cross-examination, Mr. Owen confessed that he was unable to substantiate his claim that it was undesirable to allow period bookings on day excursions. In connection with the objection that excursion fares should be on a mileage basis, Mr. Owen was asked if the L.N.E.R. was prepared to work its day and half-day trips under such a scheme. He agreed, but, when asked to state a figure, he said it was impossible to do so.
In announcing his decision to uphold the coach operators, Mr. Stick regretted the reluctance of the railways to produce eviduce as to half-day fares.