AIR TRANSPORT NEWS
7th April 1933
Page 61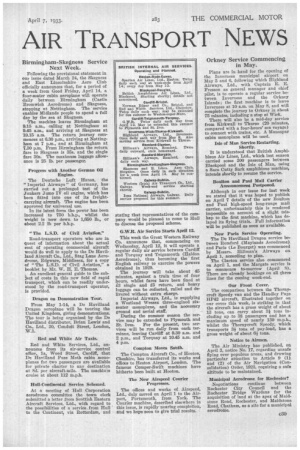 Page 61, 7th April 1933 —
AIR TRANSPORT NEWS
Close
Birmingham-Skegness Service Next Week.
Following the provisional statement in our issue dated March 24, the Skegness and East Lincolnshire Aero Club officially announces that, for a period of a week from Good Friday, April 14, a four-seater cabin aeropLane will operate daily between Birmingham (Castle Bromwich Aerodrome) and Skegness, stopping at Nottingham. The service enables Midlands people to spend a full day by the sea at Skegness.
The machine leaves Birmingham at 9.15 a.m., calling at Nottingham at 9.45 a.m., and arriving at Skegness at 10.15 a.m. The return journey commences at 6.30 p.m., arriving at Nottingham at 7 p.m., and at Birmingham at 7.30 p.m. From Birmingham the return fare to Skegness is 35s. and the single fare 30s. The maximum luggage allowance is 25 lb. per passenger.
Progress with Another German Oil Engine.
The Deutsche Luft Hansa, the "Imperial Airways" of Germany, has carried out a prolonged test of the Junkers Jumo IV oil engine, which has been fitted into one of its freightcarrying aircraft The engine has been approved for universal use.
In its latest form the power has been increased to 750 b.h.p., whilst the weight is now down to 1,650 lb., or about 2.2 lb per b.h.p.
"The L.S.D. of Civil Aviation."
Road-transport operators who are in quest of information about the actual cost of operating commercial aircraft would do well to apply to the De Havilland Aircraft Co., Ltd., Stag Lane Aerodrome, Edgware, Middlesex, for a copy of "The L.S.D. of Civil Aviation," a booklet by Mr. W. H. E. Thomas.
An excellent general guide to the subject of costs in this new field of rapid transport, which can be readily understood by the road-transport operator, is provided.
Dragon on Demonstration Tour, From May 144, a De Havilland Dragon aeroplane will be touring the United Kingdom, giving demonstrations. The tour is being organized by the De Havilland distributor, Brian Lewis and Co., Ltd., 30, Conduit Street, London, W.1.
Red and White Air Taxis.
Red and White Services, Ltd., announces from its air-service control office, la, Wood Street, Cardiff, that De Havilland Puss Moth cabin monoplanes for two passengers are available for private charter to any destination at 8d. per aircraft-mile. The machin:s Cruise at about 112 m.p.h.
Hull-Continental Service Schemed.
At a meeting of Hull Corporation aerodrome committee the town clerk submitted a letter from Scottish Eastern Aircraft Services, Ltd., with regard to the possibilities of a service from Hull to the Continent, via Rotterdam, and
stating that representatives of the company would be pleased to come to Hull to discuss the proposed scheme.
G.W.R. Air Service Starts April 12.
This week the Great Western Railway Co. announces that, commencing on Wednesday, April 12, it will operate a regular daily air service between Cardiff and Torquay and Teignmouth (Haldon Aerodrome), thus becoming the ' first English railway to exercise the powers obtained in 1929.
The journey will take about 45 minutes, against a train time of four hours, whilst fares have been fixed at £3 single and £5 return, and heavy luggage can be collected, railed and delivered without extra charge.
Imperial Airways, Ltd., is supplying a Westland Wessex three-engined sixseater monoplane, and the necessary ground and aerial staff.
During the summer season the service may be extended to Plymouth and
St. Ives. For the present, two services will be run daily from each terminus, leaving Cardiff at 9.30 a.m. and 2 p.m., and Torquay at 10.45 a.m. and 4 p.m.
Compton Moves South.
The Compton Aircraft Co., of Hooton, Cheshire, has transferred its works and offices to Heston Airport, London. The famous Comper-Swift machines have hitherto been built at Hooton.
The New Airspeed Courier Progresses.
• The offices and works of Airspeed, Ltd., duly moved on April 1 to the Airport, Portsmouth, from York. The Courier machine, described elsewhere in this issue, is rapidly nearing completion, !Ind we hope soon to give trial results.
Orkney Service Commencing in May.
Plans are in hand for the opening of the Inverness municipal airport on May 5 and 6, following which Highland Airways, Ltd., with Captain E. E. Fresson as general manager and chief pilot, is to operate a regular service between Inverness and the Orkney Islands ; the first machine is to leave Inverness at 10 a.m. on May 8, and will complete the journey to Orkney in about 75 minutes, including a stop at Wick.
There will also he a mid-day service from Kirkwall to Thurso (20 minutes, compared with a four-hours' sea voyage) to connect with trains, etc. A Monospar cabin monoplane will be used.
Isle of Man Service Restarting. Shortly.
It is understood that British Amphibious Air Lines, Ltd., which last season carried some 300 passengers between Blackpool and the Isle of Man, using a Saro Catty Sark amphibious machine, intends shortly to resume the service.
Boulton and Paul Mail Carrier Announcement Postponed. Although in our issue for last week we stated that it was hoped to publish on April 7 details of the new Boulton and Paul high-speed long-range mail carrier, unfortunately this is rendered impossible on account of a slight mishap to the first machine, which has delayed its flying trials. Full information will be published as soon as available.
New Paris Service Operating.
The De Havilland Dragon service between Romford (Maylands Aerodrome) and Paris (Le Bourget) was commenced by Messrs. Hillman's Airways on April 1, according to plan. The Clacton service also commenced on April 1, and the Margate service is to commence to-morrow (April 8). There are already bookings on all three lines for the coming week-end.
Our Front Cover.
The comparison between the Thorny. croft Speedy van and the Handley Page 11P42 aircraft, illustrated together on our cover this week, is striking in that the aircraft has a gross weight of about 13 tons, can carry about 31 tons including up to 38 passengers and has a maximum speed of nearly 130 m.p.h., whilst the Thornyeroft Speedy, which transports n tons of pay-load, has a gross weight of about 6' tons.
Notice to Airmen.
The Air Ministry has published, on April 3, notice No. 17, regarding unsafe flying over populous areas, and drawing particular attention to Article 9 (1) and (2) of the Air Navigation (Consolidation) Order, 1923, requiring a safe altitude to be maintained.
Municipal Aerodrome for Rochester?
Negotiations continue between Rochester City Council and the Rochester Bridge Wardens for the acquisition of land at the apex of Maidstone Road, Rochester, and Maidstone Road, Chatham, as a site for a municipal aerodrome.
Tags
Locations
:
York
,
Teignmouth
,
Rochester
,
Torquay
,
Cardiff
,
Portsmouth
,
Nottingham
,
London
,
Birmingham
,
Rotterdam
,
Paris
,
Plymouth
,
St. Ives