Percival Gull
7th April 1933
Page 60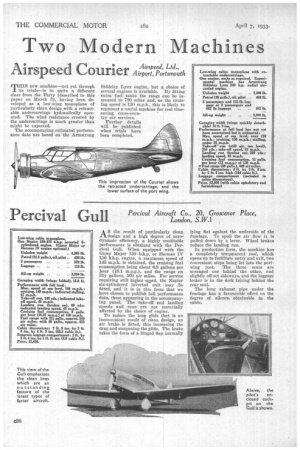 Page 60, 7th April 1933 —
Percival Gull
Close
Percival Aircraft Co., 20, Grosvenor Place, London, S.W .1 AS the result of particularly clean design and a high degree of aerodynamic efficiency, a highly creditable performance is obtained with the Percival GulL When equipped with the Gipsy Major 130 b.h.p. or Hermes IV 130 b.h.p. engine, a maximum speed of 145 m.p.h. is obtained, the cruising fuel consumption being about 6.9 gallons per hour (18.1 m.p.g.), and the range on 31i gallons, 560 air miles. For service requiring still higher speed, the Napier six-cylindered inverted unit may be fitted, and it is in this form that we have chosen to publish full performance data, these appearing in the accompanying panel. The take-off and landing speeds and runs are not materially affected by the choice of engine.
To reduce the long glide that is an inconvenient result of clean design, an air brake is fitted, this increasing the drag and steepening the glide. The brake takes the form of a hinged flap normally lying fiat against the underside of the fuselage. To spoil the air flow it is pulled down by a lever. Wheel brakes reduce the landing run.
in production form, the machine has a completely transparent roof, which opens up to facilitate entry and exit, two convenient steps being let into the portwing root. The three seats are arranged one behind the other, end slightly off-set sideways, and the luggage locker is in the deck fairing behind the rear seat.
The long exhaust pipe under the fuselage has a favourable effect on the degree of silencer obtainable in the cabin.