Formalities in Startin an Air Service
7th April 1933
Page 57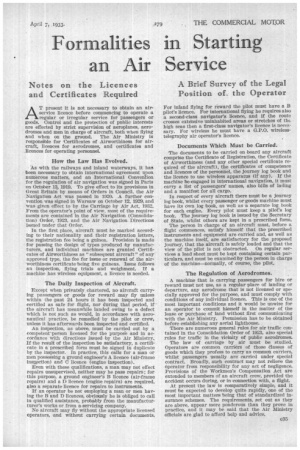 Page 57, 7th April 1933 —
Formalities in Startin an Air Service
Close
Notes on the Licences and Certificates Required A Brief Survey of the Legal P sition of, the Operator
AT present it is not necessary to obtain an airservice licence before commencing to operate a regular or irregular service for passengers or goods. Control and the protection of public interests are effected by strict supervision of aeroplanes, aerodromes and men in charge of aircraft, both when flying and when on the ground. The Air Ministry is responsible for Certificates of Airworthiness for aircraft, licences for aerodromes, and certificates and licences for operating personnel.
How the Law Has Evolved.
As with the railways and inland waterways, it has been necessary to obtain international agreement upon numerous matters, and an International Convention for the regulation of air navigation was signed in Paris on October 11, 1919. To give effect to Its provisions in Great Britain by means of Orders in Council, the Air Navigation Act was passed in 1920. A further convention was signed in Warsaw on October 12, 1929, and was given effect to by the Carriage by Air Act, 1932. From the operator's point of view, most of the requirements are contained in the Air Navigation (Consolidation) Order, 1923, and the Air Navigation Directions issued under that Order.
In the first place, aircraft must be marked according to their nationality and their registration letters, the registration fee being a guinea. Provision is made for passing the design of types produced by manufacturers, and individual machines are granted Certificates of Airworthiness as " subsequent aircraft" of any approved type, the fee for issue or renewal of the airworthiness certificate being five guineas. Issue follows an inspection, flying trials and weighment. If a machine has wireless equipment, a licence is needed.
The Daily Inspection of Aircraft.
Except when privately chartered, no aircraft carrying passengers or goods for reward may fly unless within the past 24 hours it has been inspected and certified as safe for flight, nor during that period, if the aircraft has meanwhile landed owing to a defect which is not such as would, in accordance with aeronautical practice, be remedied by the pilot or crew, unless it has afterwards been inspected and certified.
An inspection, as above, must be carried out by a competent'person licensed for the purpose and in accordance with directions issued by the Air Ministry. If the result of the inspection be satisfactory, a certificate in a prescribed form must be signed in duplicate by the inspeetor. In practice, this calls for a man or men possessing a ground engineer's A licence (air-frame Inspection) and C licence (engine inspection).
Even with these qualifications, a man may not effect repairs unsupervised, neither may he pass repairs; for this purpose, a ground engineer's B licence (air-frame repairs) and a D licence (engine repairs) are required, also a separate licence for repairs to instruments.
If an operator be not employing a man or men having the B and D licences, obviously he is obliged to call in qualified assistance, probably from the manufacturturer's works or from aservicing company.
No aircraft may fly without the appropriate licensed operators, and without earrying certain documents.
For inland flying for reward the pilot must have a B pilot's licence. For international flying he requires also a second-class navigator's licence, and if the route crosses extensive uninhabited areas or stretches of high seas then a first-class navigator's licence is necessary. For wireless he must have a G.P.O. wirelesstelegraphy air operator's licence.
Documents Which Must be Carried.
The documents to be carried on board any aircraft comprise the Certificate of Registration, the Certificate of Airworthiness (and any other special certificate required of the aircraft), the certificates of competence and licences of the personnel, the journey log book and the licence to use wireless apparatus (if any). If the machine be engaged in international navigation, it must carry a list of passengers' names, also hills of lading and a manifest for all cargo.
In respect of every aircraft there must be a journey log book, whilst every passenger or goods machine must have its own log book, as well as a separate log book for each engine. Every pilot must keep a piles log book. The journey log book is issued by the Secretary of State, whilst others are kept in a prescribed form.
The person in charge of an aircraft must, before a flight commences, satisfy himself that the prescribed instruments and equipment are carried and, as well as the machine itself, are satisfactory for the proposed journey, that the aircraft is safely loaded and that the view of the pilot is not obstructed. On regular services a load sheet must be kept containing certain particulars, and must be examined by the person in charge of the machine—normally, of course, the pilot.
The Regulation of Aerodromes.
A machine that is carrying passengers for hire or reward must not use, as a regular place of landing or departure, any aerodrome that is not licensed or specially approved for the purpose, and must comply with conditions of any individual licence. This is one of the most important dondition.s and it would be unwise for an operator to commit himself in the matter of the lease or purchase of land without first communicating with the Air Ministry. Permission has to be obtained before establishing any aerial lighthouse.
There are numerous general rules for air traffic contained in the Consolidation Order of 1923, also special rules for traffic in the vicinity of public aerodromes.
The law of carriage by air must be studied.•Operators are common carriers of those Classes of
goods which they profess to carry as common carriers, whilst passengers usually are carried under special contract. Broadly, such contract may not relieve the operator from responsibility for any act of negligence. Provisions of the Workmen's Compensation Act are extended to members of an aircraft crew, provided the accident occurs during, or in connection with, a flight.
At present the law is comparatively simple, and it must be expected to develop quite rapidly, one of the tnost important matters 'being that of standardized insurance schemes. The requirements, set out as they are above, appear more ponderous than they prove in practice, and it may be said that the Air Ministry officials are glad to afford help and advice.