The De liavilland fir
7th April 1933
Page 54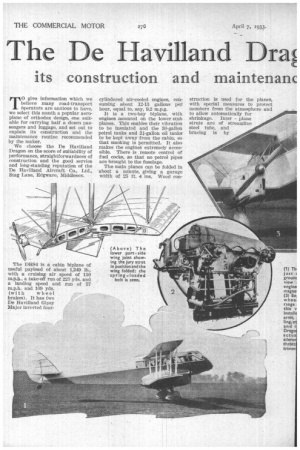 Page 55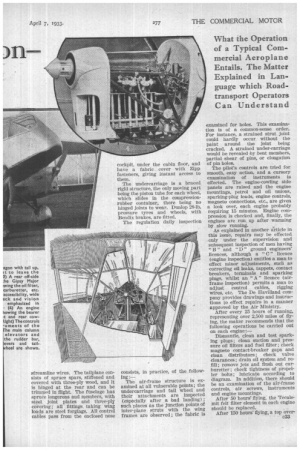 Page 56
Page 54, 7th April 1933 —
The De liavilland fir
Close
its construction and maintenanc
T0 give information which we believe many road-transport Operators are anxious to have, we select this month a popular aeroplane of orthodox design, one suitable for carrying half a dozen passengers and luggage, and set out to explain its construction and the maintenance routine recommended by the maker.
We choose the De RaviHand Dragon on the score of suitability of performance, straightforwardness of construction and the good service and long-standing reputation of the De HaviIland Aircraft Co., Ltd., Stag Lane, Edgware, Middlesex.
The DI184 is a cabin biplane of useful payload of about 1,249 lb., with a cruising air speed of 110 m.p.h., a take-off run of 225 yds. and a landing speed and run of 57 m.p.h. and 109 yds.
(with wheel brakes). It has two De Havilland Gipsy Major inverted four cylindered air-cooled engines, consuming about 12-13 gallons per hour, equal to, say, 9.2 m.p.g.
It is a two-bay biplane, with engines mounted on the lower stub planes. This enables their vibration to be insulated and the 30-gallon petrol tanks and 21-gallon oil tanks to be kept away from the cabin, so that smoking is permitted. It also makes the engines extremely accessible. There is remote control of fuel cocks, so that no petrol pipes are brought to the fuselage.
The main planes can be folded in about a minute, giving a garage width of 23 ft. 4 ins. Wood con
struction is used for the planes, with special measures to protect members from the atmosphere and to allow automatically for shrinkage. Inter plane struts are of streamline steel tube, and bracing is by streamline wires. The tailplane consists of spruce spars, stiffened and covered with three-ply wood, and it Is hinged at the rear and can be trimmed in flight. The fuselage has spruce longerons and members, with steel joint plates and three-ply covering; all fittings taking wing loads are steel forgings. All control cables pass from the enclosed nose cockpit, under the cabin floor, and have a fabric cover with Zipp fasteners, giving instant access to them.
The undercarriage is a braced rigid structure, the only moving part being the piston tube for each• wheel, which slides in the compressionrubber container, there being no hinged joints to wear. Dunlop 28-lb. pressure tyres and wheels, with Bendix brakes, are fitted.
The regulation daily inspection consists, in practice, of the following:— The air-frame structure is examined at all vulnerable points; the undercarriage and tail wheel and their attachments are inspected (especially after a bad lauding) ; such places as the junction points of inter-plane struts with the wing frames are observed; the fabric is examined for holes. This examination is of a common-sense order. For instance, a strained strut joint could hardly occur without the paint around the joint being cracked. A strained under-carriage would be revealed by bent members, partial shear of pins, or elongation of pin holes.
The pilot's controls are tried for smooth, easy action, and a cursory examination of instruments is effected. The engine-cowling side panels are raised and the engine mountings, petrol and oil unions, sparking-plug leads, engine controls, magneto connections, etc., are given a look over, each engine probably requiring 15 minutes. Engine Colnpression is checked and, finally, the engines are run up after warming by slow running.
As explained in another article in this issue, repairs may be effected only under the supervision and subsequent inspection of men having "B" and " D " ground engineers' licences, although a " C " licence (engine inspection) entitles a man to effect minor adjustments, such as correcting oil leaks, tappets, contact breakers, terminals and sparking plugs, whilst an " A " licence (airframe inspection) permits a man to adjust control cables, rigging wires, etc. The De Havilland company provides drawings and instructions to effect repairs in a manner approved by the Air Ministry.
After every 25 hours of running, representing over 2,500 miles of flying, the maker recommends that the following operations be carried out on each engine:—
Dismantle, clean and test sparking plugs; clean suction and pressure oil filters and fuel filter ; check magneto contact-breaker gaps and clean distributors; check valve clearances; drain oil system and refill; remove jets and flush out carburetter; check tightness of propeller bolts; lubricate according to diagram. In addition, there should be an examination of the air-frame controls, air screws, instruments and engine mountings.
After 50 hours' flying, the Tecalemit felt filter element in each engine should be replaced.
After 150 hours' flying, a top overc33 haul is recommended, this comprising decarbonizing and grinding-in valves, inspection and cleaning of magnetos, dismantling and cleaning of carburetter, replacement of rubber joints in oil system and checking petrol flow at carburetter, which should be at least one quart in 50 seconds. The job is no more difficult than with a car engine, and the accessible position of each power unit speaks for itself. The De Havilland concern reckons this top overhaul to cost on average £3 per engine for materials, the operator's engineer staff carrying out the work. After 450 hours' flying, each engine should be removed and given a complete overhaul, being refitted with new mounting rubbers. This overhaul would probably be done by the manufacturer at a cost of £60 per engine, bringing the total enginemaintenance figure (allowing is. per engine-hour for running replacements) to 3s. 11.2d. per engine-hour. It is recommended that the annual overhaul of the aircraft for renewal of the Certificate of Airworthiness be carried out by an experienced servicing concern and, obviously, it is best to have this done by the maker. The cost for the Dragon is reckoned to be 1100. Running replacements at 2s. per hour should be added, this bringing the total maintenance figure to Os. 10.4d. per hour. On the right is a table of operating cost worked out by the De Havilland con cern n -cern for a regu lar 315-mile service (two return journeys daily), on the basis of 300 working days (1,200 oneway trips) per annum, totalling 378,000 aircraft miles and allowing a cruising speed of 105 m.p.h., which means -.3,600 aircraft hours. We publish this table with reserve, because, obviously, there are unknown quantities; no allowance has been made for contingencies, as these could not even be guessed at; a year of 300 flying days might need modification, some variation might arise over ground staff, petrol and oil prices might be different. No
GROSS OPERATING COST
allowance has been made for aircraft being out of service owing to accident. Obsolescence is covered at 20 per cent. per annum, on the ground that sale would be effected after four years, and the machine would still have a definite value.