AIR TRANSPORT
7th April 1933
Page 53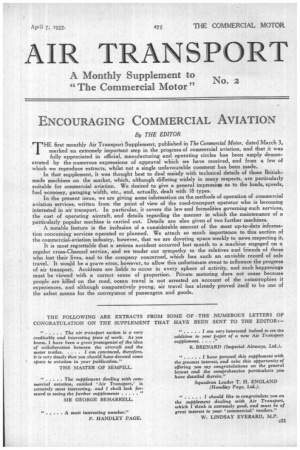 Page 53, 7th April 1933 —
AIR TRANSPORT
Close
ENCOU
11
AGING COMMERCIAL AVIATION
By THE EDITOR THE first monthly Air Transport Supplement, published in The Commercial Motor, dated March 3, marked an extremely important step in the progress of commercial aviation, and that it was fully appreciated in official, manufacturing and operating circles has been amply demonstrated by the numerous expressions of approval which we have received, and from a few of which we reproduce extracts, whilst not a single unfavourable comment has been made.
. In that supplement, it was thought best to deal mainly with technical details of those Britishmade machines on the market, which, although differing widely in many respects, are particularly suitable for commercial aviation. We desired to give a general impression as to the loads, speeds, fuel economy, garaging width, etc., and, actually, dealt with 18 types.
In the present issue, we are giving some information on the methods of operation of commercial aviation services, written from the point of view of the road-transport operator who is becoming interested in air transport. In particular, it covers the law and formalities governing such services, the cost of operating aircraft, and details regarding the manner in which the maintenance of a particularly popular machine is carried out. Details are also given of two further machines.
_ A notable feature is the inclusion of a considerable amount of the most up-to-date information concerning services operated or planned. We attach so much importance to this section of the commercial-aviation industry, however, that we are devoting space weekly to news respecting it. It is most regrettable that a serious accident occurred last month to a machine engaged on a regular cross-Channel service, and we tender our sympathy to the relatives and friends of those who lost their lives, and to the company concerned, which has such an enviable record of safe travel. It would be a grave error, however, to allow this unfortunate event to influence the progress of air transport. Accidents are liable to occur in every sphere of activity, and such happenings must be viewed with a correct sense of proportion. Private motoring does not cease because people are killed on the road, ocean travel is not arrested on account of the catastrophies it experiences, and although comparatively young, air travel has already proved itself to be one of the safest means for the conveyance of passengers and goods.