Organizing the Road Industry
7th April 1933
Page 39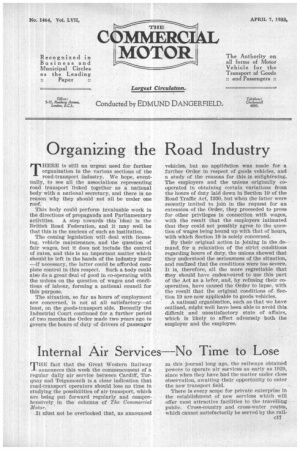 Page 39, 7th April 1933 —
Organizing the Road Industry
Close
THERE is still an urgent need for further organization in the various sections of the road-transport industry. We hope, eventually, to see all the associations representing road transport 'linked together as a national body with a national secretary, and there is no reason why they should not all be under one roof.
This body could perform invaluable work in the directions of propaganda and Parliamentary activities. A step towards this 'ideal is the British Road Federation, and it may well be that this is the nucleus of such an institution.
The coming legislation will deal with licensing, vehicle maintenance, and the question of fair wages, but it does not include the control of rates, and this is an important matter which should be left in the hands of the industry itself —if necessary, the latter could be afforded complete control in this respect. Such a body could also do a great deal of good in co-operating with the unions on the question of wages and cOnditions of labour, forming a national council for this purpose.
The situation, so far as hours of employment are concerned, is not at all satisfactory—at least, on the goods-transport side. Recently the Industrial Court continued for a further period of two months the Order made two years ago to govern the hours of duty of drivers of passenger vehicles, but no applieation was made for a further Order in respect of goods vehicles, and a study of the reasons for this is enlightening. The employers and the unions originally cooperated in obtaining certain variations from tile hours of duty laid down in Section 19 of the Road Traffic Act, 1930, but when the latter were recently invited to join in the request for an extension of the Order, they proceeded to press for other privileges in connection with wages, with the result that the employers intimated that they could not possibly agree to the question of wages being bound up with that of hours, with which Section 19 is solely concerned.
By their original action in joining in the demand_ for a relaxation of the strict conditions regarding hours of duty, the unions showed that they understood the seriousness of the situation, and realized that the conditions were too severe. It is, therefore, all the more regrettable that they should have endeavoured to use this part of the Act as a leer, and, by refusing their cooperation,. have caused the Order to lapse, with the result that the original conditions of Section 19 are now applicable to goods vehicles.
A national organization, such as that we have outlined, might well have been able to avoid this difficult and unsatisfactory state of affairs, which is likely to affect adversely both the employer and the employee.