A New Reliance Tractor
6th September 1935
Page 51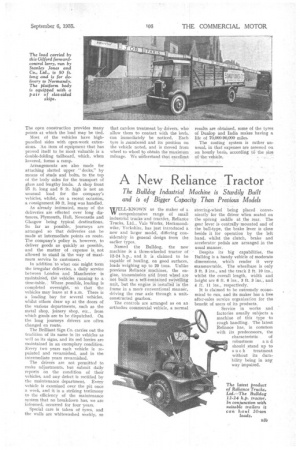 Page 51, 6th September 1935 —
A New Reliance Tractor
Close
The Bulldog Industrial Machine is Sturdily Built and is of Bigger Capacity. Than Previous Models WELL-KNOWN as the maker of a VY comprehensive range of small industrial trucks.and tracteirs, Reliance Trucks, Ltd., Vale Works, Heckmondwike,Yorkshire, has just introduced a new and larger model, differing considerably in general design from the earlier types.
Named the Bulldog, the new machine is a three-wheeled tractor of 12-24 h.p., and it is claimed to be capable of hauling, on good surfaces, loads 'weighing up to 20 tons. 'Unlike previous Reliance machines, the engine, transmission and front wheel are not built as a self-tontained swivelling unit, but the engine is installed in the frame in a more conventional manner, driving the rear axle through a unitconstructed gearbox.
The controls are arranged as on an orthodox commercial vehicle, a normal steering-wheel being placed conveniently for the driver when seated on the sprung saddle at the rear. The gear lever is centrally mountedand of the ball-type, the brake lever is close beside it for operation by the left hand, whilst the clutch, brake and accelerator pedals are arranged in the usual manner.
Despite its big capabilities, the Bulldog is a handy vehicle of moderate dimensions, which render it very manceuvrable. The wheelbase is only 3 ft. 3 ins., and the track 2 ft. 10 ins., whilst the overall length, width and height are 5 ft. 6 ins., 3 ft. 3 ins., and 4 ft. 11 ins., respectively.
It is claimed to be extremely economical to run, and its maker has a free after-sales service organization for the benefit of users of its products.
Service in works and factories usually subjects a machine of this type to rough handling. The latest Reliance has, in common with its predecessors, the characteristic of robustness a n d
should .stand up to such treatment without its durability being in any way impaired.