SMALLER VEHICLES TO MEET MUNICIPALITIES' NEEDS.
6th September 1921
Page 29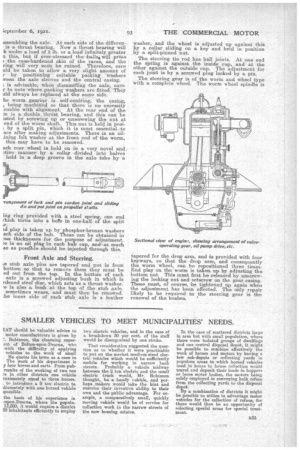 Page 29, 6th September 1921 —
SMALLER VEHICLES TO MEET MUNICIPALITIES' NEEDS.
Close
AT should be valuable advice to motor manufacturers is given by 7. Robinson, the cleansing superent of Bolton-upon-Dearne, who with the difficulty of applying vehicles to the work of small He quotes his town as a case in The work of his department is y four horses and carts. From pub. results of the working of two ton 2.s in other districts one vehicle roximately equal to three horses. ,to introduce, a 2 ton electric to diernately with one horsed vehicle 'possible.
the basis of his experience in -upon-Dearne, where the papillae 12,500, it would require a district 00 inhabitants efficiently to employ two electric vehicles, and in the case of a breakdown 50 per cent, of the staff would be disorganized by one stroke.
That consideration suggested the question as to whether it were practicable to put on the market medium-sized electric vehicles which would be sufficiently mobile for workiug in narrow back streets. Probably a vehicle midway between the 2 ton electric and the small electric truck would, Mr. Robinson thought, be a handy 1.ehicle, and perhaps makers would take the hint and exercise their inventive ability to their own and the public advantage. For example, a comparatively small, quickly moving vehicle would be of service for collection work in the narrow streets of the new housing estates. In the case of scattered districts largo in area but with small population, where there were isolated groups of dwellings and one central disposal depot, it might be possible to combine effectively the work of horses and motors by having a few sub-depets or collecting yards in populous areas to which horsed vehicles used in house to house collection would travel and deposit their loads in hoppers or loose motor bodies, the motors being solely employed in conveying bulk refuse from the collecting yards to the disposal depot. By a combination of districts it might be possible to utilize to advantage motor vehicles for the collection of refuse, for there would then be an opportunity of selecting special areas for special treatment.