Local Proceedings.
6th October 1925
Page 7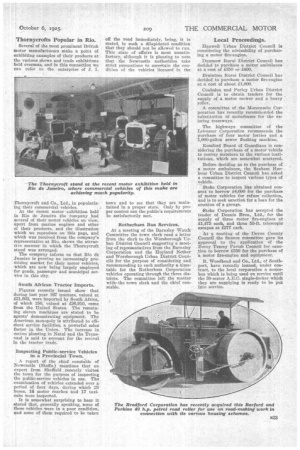 Page 7, 6th October 1925 —
Local Proceedings.
Close
Hanwell Urban District Council is considering the advisability of purchasing a motor fire-engine.
Dunmow Rural District Council has decided to purchase a motor ambulance at a cost of £350 or 1400,
Braintree Rural District Council has decided to purchase a motor fire-engine at a cost of about 0,000.
. Coulsdan and Purley Urban District Council is to obtain tenders for the supply of a motor mower and a heavy roller.
A committee of the Morecambe Corporation has recently recommended the substitution of motorbuses for the existing tramways.
The highways committee of the Leicester Corporation recommends. the purchase of four motor lorries and a 1,000-gallon sewer flushing machine.
Romford Board of Guardians is considering the purchase of a motor vehicle to convey members to the various institutions, which are somewhat scattered.
Before deciding as to the purchase of a motor ambulance, the Seaham Harbour Urban District Council has asked a committee to inspect various types of vehicle.
Stoke Corporation has obtained consent to borrow 14,600 for the purchase of motor vehicles for refuse collection, and is to seek sanction for a loan for the erection of a garage.
Ctoke Corporation has accepted the tender of Dennis Bros., Ltd., for the supply of three motor fire-engines at ±1,475 each, and three 55-ft. telescopic escapes at £277 each.
At a meeting of the DCV011 County ,Council the finance committee gave its approval to the application of the Bovey Tracey Parish Council for sanction to borrow £550 for the purchase of `a motor fire-engine and equipment.
R. Woodheral and Co., Ltd., of Southport, have recently loaned, under contract, to the local corporation a motorbus which is being used on service until the 30-seater A.E.C. single-decker which they are supplying is ready to be put into service.