Albion's New Depot.
6th October 1925
Page 5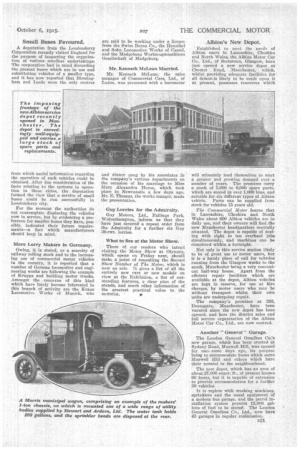 Page 5, 6th October 1925 —
Albion's New Depot.
Close
' Established to meet the needs of Albion users in Lancashire. Cheshire and North Wales, the Albion Motor Car Co., Ltd., of Scotstoun, Glasgow, have just opened a new service depot at Chester Road, Manchester, which, whilst providing adequate facilities for all demands likely to be made upon it at present, possesses resources which will utimately lend themselves to meet a greater and growing demand over a number of years. The premises carry a stock of 5,000 to 6,000 spare parts, which are stored in over 1,000 bins, and suitable for six different types of Albion vehicle. Parts can be supplied from stock for vehicles 15 years old.
The Commercial Motor learns that in Lancashire, Cheshire and North Wales about 600 Albion vehicles are in daily use, and their owners will find the new Manchester headquarters centrally situated. The depot is capable of dealing with eight to ten overhaul jobs simultaneously, and machines can be completed within a fortnight.
Not only is this service station likely to be of great use to motor users, but it is a handy place of call for vehicles running from the Glasgow works to the south, Manchester being a very convenient half-way house. Apart from the efficient repair facilities which are available at the depot, Albion vehicles are kept in reserve, for use at hire charges, by motor users who may be without transport whilst their own units are undergoing repair.
The company's premises at 283, Deansgate, Manchester, have been vacated since the new depot has been opened, and here the district sales and full service organization of the Albion Motor Car Cu., Ltd., are now centred.