Securing Economy in Brick Transport.
6th October 1925
Page 29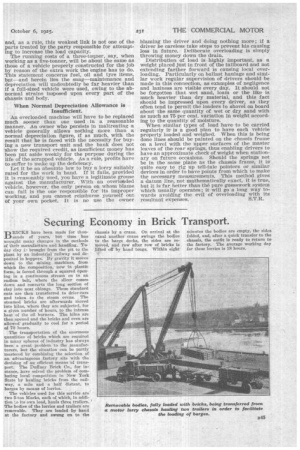 Page 29, 6th October 1925 —
Securing Economy in Brick Transport.
Close
Top RICKS have been made for thouLIP sands of years, but time has wreught many changes in the methods of their manufaCturc and handling. Today clay brought from the pit to the plant by an industrial railway and deposited in hoppers. By gravity it moves down to the mixing machines, from which the composition, now in plastic form, is forced through a squared opening at a continuous stream on to an endlese belt, where the slicer comes down and converts the long section of clay into neat oblongs. These standard cuts are then transferred to drier-cars and taken to the steam ovens. The steamed bricks are afterwards moved into kilns, where they are subjected, for a given number of hours, to the intense heat of the oil burners. The kilns are then opened and the bricks and oven are allowed gradually to cool for a period of '70 hours.
The transportation of the enormous quantities of bricks which are required in many spheres of industry has always been a great pi oblem to the manufacturers, but the situation can be partly mastered by combining the selection of an advantageous factory site with the devising of an efficient means of transport. The Duffney Brick Co., for instance, have solved the problem of combating local competition in New York State by hauling bricks from the railway, a mile and a half distant, to barges by means of lorries.
The vehicles used for this service are two 5-tan Maas, each of which, in addition to its own load, hauls three trailers. The bodies of the lorries and trailers are removable. They are loaded by band at the factory and swung on to the
chassis by a crane. On arrival at the canal another crane swings the bodies to the barge decks, the sides are removed, and row after row of bricks is lifted off by hand tongs. Within eight minutes the bodies are empty, the sides folded, and, after a quick transfer to the chassis, the outfit is ready to return to the factory. The average working day for these lorries is 18 hours.