A New Renault Industrial Truck.
6th October 1925
Page 27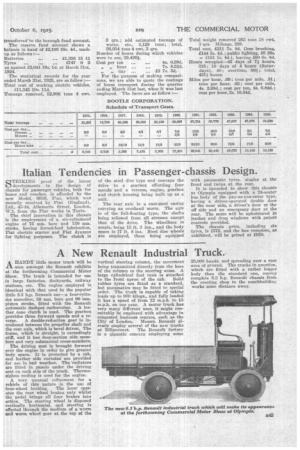 Page 27, 6th October 1925 —
A New Renault Industrial Truck.
Close
A HANDY little motor truck will be
seen amongst the Renault exhibits at the forthcoming Commercial Motor Show. The truck is intended for use in large factories, dockyards, railway stations, etc. The engine employed is identical with that used in the popular little 8.3 h.p. Renault car-a four-cylinder monobloc, 58 mm. bore and 90 mm. piston stroke, fitted with the Renault automatic dashpot carburetter. A leather cone clutch is used. The gearbox provides three forward speeds and a re
verse. A double-reduction gear is introduced between the propeller shaft and the rear axle, which is bevel driven. The frame, which is straight, is exceedingly stiff, and it has deep-section side members and very substantial cross-members.
The driving seat is brought forward over the engine in order to give greater body space. It is protected by a cab, and leather side curtainsare provided for use in bad weather. The radiators are fitted in panels under the driving seat on each side of the truck. Thermosiphon cooling is used for the engine.
A very unusual refinement for a vehicle of this nature is the use of four-wheel braking. The lever operates the rear wheel brakes only whilst the pedal brings all four brakes into action. The steering wheel is disposed vertically horizontal, and steering is effected through the medium of a worm and worm wheel gear at the top of the
vertical steering column, the movement being transmitted directly from the base of the column to the steering arms. A large cylindrical fuel tank is attached to the front apron of the cab. Solid rubber tyres are fitted as a standard, but pneumatics may be fitted to special order. The truck is capable of taking loads up to 900 kliegs., and fully loaded it has a speed of from 12 m.p.h. to 15 m.p.h. on top gear. A motor truck has very many different uses, it might conceivably be employed with advantage in congested business centres, such as the City of London. Messrs. Renault already employ several of the new trucks at Billancourt. The Renault factory is a gigantic concern employing some 25,000 hands, and spreading over a vast area of ground. The trucks in question, which are fitted with a rather longer body than the standard one, convey complete 8.3 h.p. Renault chassis from the erecting shop to the coachbuildina works some distance away.