The Use of Unsuitable Chassis on Bus Work.
6th October 1925
Page 2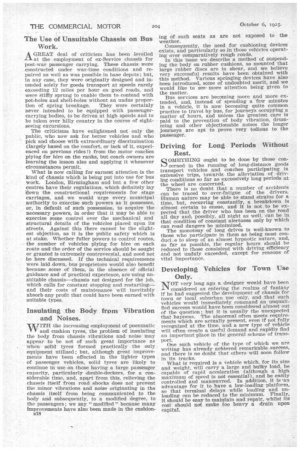 Page 2, 6th October 1925 —
The Use of Unsuitable Chassis on Bus Work.
Close
A GREAT deal of criticism has been levelled -EX at the employment of ex-Service chassis for post-war passenger carrying. These chassis were constructed under war-time conditions and repaired as well as was possible in base depots ; but, in any case, they were originally designed and intended solely for goods transport at speeds rarely exceeding 12 miles per hour on good roads, and were stiffly sprung to enable them to contend with pot-holes and shell-holes without an undue propor tion of spring breakage. They were certainly never intended to be equipped with passengercarrying bodies, to be driven at high speeds and to be taken over hilly country in the course of sightseeing excursions. The criticisms have enlightened not only the public, who now ask for better vehicles and who pick and choose with extraordinary discrimination (largely based on the comfort, or lack of it, experienced on previous rides!) from the motor coaches plying for hire on the ranks, but coach owners are learning the lesson also and applying it whenever circumstances permit. What Is now calling for earnest attention is the kind of chassis which is being put into use for bus work. London, Birmingham and but a few other centres have their regulations, which definitely lay 'down the constructional requirements for stage carriages, and we would urge every municipal authority to exercise such powers as It possesses, or, in default of such possession, to acquire the necessary powers, in order that it may be able to exercise some control over the mechanical and structural details of the vehicles placed upon its streets. Against this there cannot be the slightest objection, as it is the public safety which is at stake. Whether fuller powers to control routes, the number of vehicles plying for hire on each route and the order of the service should be sought or granted is extremely controversial, and need not he here discussed. If the technical requirements were laid down, bus proprietors would also benefit because some of them, in the absence of official guidance and of practical experience, are using unsuitable chassis—chassis not designed for the job, which calls for constant stopping and restarting— and their costs of maintenance will inevitably absorb any profit that could have been earned with suitable types.