Insulating the Body from Vibration and Noises.
6th October 1925
Page 2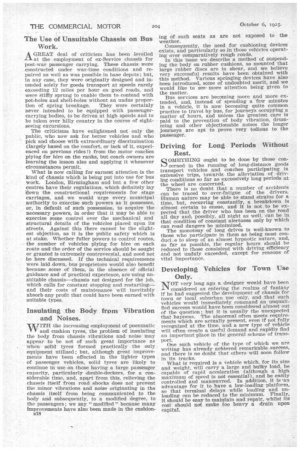 Page 2, 6th October 1925 —
Insulating the Body from Vibration and Noises.
Close
WITH the increasing employment of pneumatic and cushion tyres, the problem of insulating the body from chassis vibrations and noise may appear to be not of such great importance as when solid tyres formed practically the only equipment utilized ; but, although great improvements have been effected in the lighter types of passenger vehicles, solid tyres are likely to continue in use on those having a large passenger capacity, particularly ,double-deckers, for a considerable time, and, apart from this, relieving the chassis itself from road shocks does not prevent the minor vibrations and noise originating in the chassis itself from being communicated to the body and subsequently, to a modified degree, to the passengers ; we say " modified " because many improvements have also been made in the cushion B18 ing of such seats as are not exposed to the weather. Consequently, the need for cushioning devices exists, and particularly so in those vehicles operating over comparatively rough roads. In this issue we describe a method of suspending the body on rubber cushions, so mounted that large rubber discs are in shear, and we believe very successful results have been obtained with this method. Various springing devices have also been introduced, some of undoubted merit, and we would like to seemore attention being given to the matter. Bus services are becoming more and more extended, and, instead of spending a few minutes In a vehicle, it is now becoming quite common practice to travel by bus, for journeys occupying a matter of hours, and unless the greatest care is paid to the prevention of body vibration, drumming and other objectionable noises the bringer journeys are apt to prove very tedious to the passenger.