Driving for Long Periods Without Rest.
6th October 1925
Page 2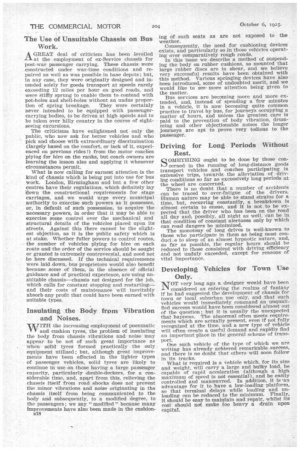 Page 2, 6th October 1925 —
Driving for Long Periods Without Rest.
Close
OMETHING ought to be done by those con cerned in the running of long-distance goods transport vehicles and coaches participating in extensive trips, towards the alleviation of driving conditions so far as excessively long periods at the wheel are concerned. There is no doubt that a number of accidents can be traced to over-fatigue of the drivers. Human nature may be able to stand strains for a time, but, recurring constantly, a breakdown is almost certain to ensue, and it is not to be expected that the driver who has been on the road all day and; possibly, all night as well, can be in that condition of constant alertness only by which can road dangers be minimized. The monotony of long drives is well-known to those who participate in them as being most conduel, e to sleep of an almost hypnotic nature, and, so far as possible, the regular hours should be reduced to those consistent with driving efficiency and not unduly exceeded, except for reasons of vital importance.