Thirty-five Miles in 11 Hours with a 60-ton Load.
6th October 1925
Page 15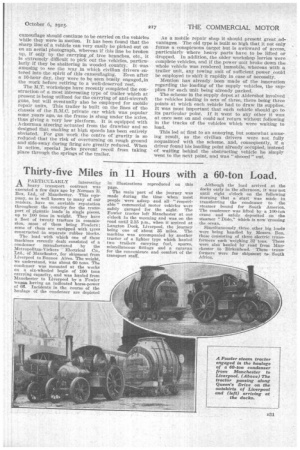 Page 15, 6th October 1925 —
Thirty-five Miles in 11 Hours with a 60-ton Load.
Close
APARTICULARLY interesting heavy transport contract was executed a few days ago by Norman D. Box, Ltd., of Manchester. This company, as is well known to many of our readers, have an enviable reputation throughout the country for the transport of gigantic loads in single pieces, up to 100 tons in weight. They have a fleet of twenty tractors in commission, most of them being Fowlers ; some of them are equipped with tyres constructed in separate rubber blocks.
The load with which one of these machines recently dealt consisted of a condenser manufactured by the Metropolitan-Vickers Electrical Co., Ltd., of Manchester, for shipment from Liverpool to Buenos Aires. The weight, we understand, was about 80 tons. The condenser was mounted at the works on a six-wheeled bogieS of 100 tons carrying capacity, and was hauled from Manchester to Liverpool by a Fowler wag= having an indicated horse-power of 66. Incidents in the course of the haulage of the condenser are depicted in illustrations reproduced on this page.
The main part of the journey was made during the time when most people were asleep and all " respectable " commercial motor vehicles were safely garaged for the night. The Fowler tractor left Manchester at one o'clock in the morning and was on theroad until 2.15 p.m., when it arrived at Langton Dock, Liverpool, the journey being one of about 35 miles. The machine was accompanied by another tractor of a lighter type which hauled two trailers carrying fuel, spares, miscellaneous fittings and a caravan for the convenience and comfort of the transport staff.
Although the load arrived at the docks early in the afternoon, it was not until eight o'clock on the following morning that a "start was made in transferring the condenser to the steamer bound for South America. The condenser was lifted by a 100-tort crane and safely deposited on the steamer " Dido," rhich is now 'crossing the ocean.
Simultaneously three other, big loads were being handled by Messrs. Box, these consisting of three electric transformers' each weighing 32 tons. These were also hauled by road from Manchester to Birkenhead. These transforthers were for shipment ton South Africa.