Operators' Training Schools for Drivers
6th November 1942
Page 20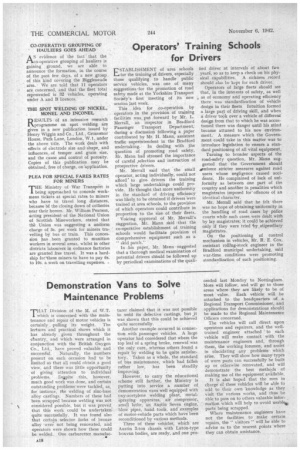 Page 20, 6th November 1942 —
Operators' Training Schools for Drivers
Close
ESTABLISIIMENT of area schools for the training of drivers, especially those qualifying to handle public service vehicles, was one of many suggestions for the promotion of road safety made at the Yorkshire Transport Society's first meeting of its new session last week.
This idea for co-operation by operators in the provision of training facilities was, put forward by Mr. L. Merrall, an inspector in Bradford Passenger Transport Department, during a discussion following a paper contributed by Mr. H. Mann, assistant traffic superintendent in the Bradford undertaking. In dealing with the question of promoting road safety, Mr. Mann had stressed the importance of careful ,selection and instruction of prospective drivers. Mr. Merrall said that the small operator, acting individually, could not afford' to give drivers the training which large undertakings could provide. He thought that more uniformity in the standard of driving efficiency was likely. to be obtained if drivers were trained at area schools, to the provision of which operators could contribute in proportion to the size of their fleets.
Voicing approval of Mr. Merrall's suggestion, Mr. Mann said 'that the co-operative establishment of training schools would facilitate provision of comprehensive equipment such as a 'skid patch."
In his paper, Mr. Mann suggested that a thorough medical examination of potential drivers shbuld be followed up by periodical examinations of the quail
fled driver at intervals of about f....ve year, so as to keep a check on his phy sical capabilities. A sickness record should also be kept for each driver. Operators of large fleets should see that, in the inteiests of safety, as well
• as of economy and operating efficiency there was standardization of vehicle design in their fleets Intuition formed a large part of driving skill, and when a driver took over a vehicle of different desip from that to which he was accustomed there was danger until his Mind became attuned to his new environment. A measure which the Government could take in this matter was to introduce legislation to ensure a standard positioning of all vital equipment.
Turning to broader aspects of the road-safety question, Mr. Mann suggested that the Government should aenforce stricter measures against road users whose negligence caused accidents. He complained of lack of uniformity as between one part of the country and another in penalities which magistrates imposed for offences of an identical character.
Mr. Merrall said that he felt there was no hope of obtaining uniformity in the handling of road cases by police courts while such cases were dealt with by lay magistrates; it could be achieved only if they were tried ibysstipendiary magistrates.
On the positioning of control mechanism in vehicles, Mr. R. E. Cox, assistant rolling-stock engineer in the Bradford municipal undertaking, said war-time conditions were promoting standardization of such positioning.