State Grants Feature in New Engineering Cadetships
6th November 1942
Page 18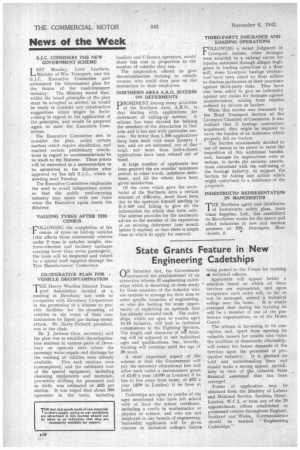 Page 18, 6th November 1942 —
State Grants Feature in New Engineering Cadetships
Close
ON Saturday last, the Government announced the establishment of an attractive scheme rff engineering cadetships which is deserving of close study — by those members of the industry who are anxious to arrange for their sons to enter specific branches of engineering, or who are looking for some opportunity of exploiting an aptitude that has already revealed itself. The cadetships, which are open to youths aged 16-19 inclusive, will lead to technical commissions in the Fighting Services. The length and character of the' training will be adjusted to suit individual ages and qualifications, but, broadly, training will continue until the age of 20 years. A most important aspect of the scheme is that the Government will pay the necessary educational fees and allow each cadet a maintenance grant of 2140 a year (£160 in London) if he has to live away from home, or £75 a year (£90 in London) if he lives .at home.
Cadetships are open to youths of the ages mentioned who have left school with at least the school certificate, including a credit in mathematics or physics or science, and who are not employed in any branch of engineering. Successful applicants will be given courses at technical colleges before being passed to the Forces for training aia technical officers.
Applicants will appear before a selection board on which all three Services are represented, and upon acceptance each cadet will, so far as can be arranged, attend a technical college near his home. It is wisely arranged that during his training he will be a member of one of the preService organizations, or of the Home Guard.
The scheme is far-seeing in its cOnception and, apart from opening up valuable careers for youths who value the tradition of democratic citizenship, will reduce the future demands of the Services upon the -personnel of pro ductive industry. It is planned on bold and understanding lines and should make a strong appeal, partictilarly in view of the ,valuable State financial assistance that has been arranged.
Forms of application may be obtained from the Ministry of Labour. and National Service, Sardinia Street, London, W.C.2, or from any of the 29 appointments offices established in prominent centres throughout England, Scotland and Wales. Correspondence should be marked "Engineering Cadetships"