THE HAULIERS ENQUIRE WITHIN.
6th November 1923
Page 15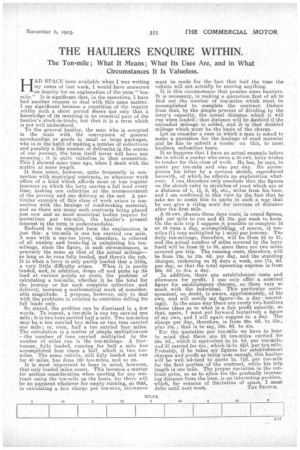 Page 15, 6th November 1923 —
THE HAULIERS ENQUIRE WITHIN.
Close
The Ton-mile ; What It Means ; What Its Uses Are, and in What Circumstances It Is Valueless.
HAD SPACE been available when I was writing my notes of last sseek,_I would have answered an inquiry for an explanation of the term "tonmile. It is significant that, in the meantime, I have had another request to deal with this same matter.
I say significant because a repetition of the inquiry within such a short period shows not only that a knowledge of its meaning is an essential part of the ., haulier's stock-in-trade, but that it is a term which is not well understood.
To the general haulier, the man who is occupied in the main with the conveyance of general merchandise or goads in small or large packages, who is in the habit of making a number of collections and possibly a like number of deliveries in the course of one journey, the term itself never will have any meaning;, it is quite valueless in that connection. This I showed some time ago, when I dealt with the
matter at some length. . It does OcCur, however, quite frequently in connection with municipal contracts, or wherever work offers of 'a kind which affords more or less regular journeys on Which the lorry carries a full load every time, making one collection at the commencement of the journey and one delivery at the end. A particular example of this class of work arises in connection with the haulage of road-making material, and as there are many such contracts being placed just now and as most municipal bodies inquire for quotations per ton-mile, the haulier's present interest in the term is understandable.
Reduced to its simplest form the explanation is just this: a ton-mile is one ton carried one mile. A man with a one-ton lorry, therefore, is relieved of all anxiety and brain-fag in calculating his tonmileage, since the figure, in such circumstances, is precisely the same as that of the actual mileage— so long as he runs fully loaded, and there's the rub. It is when a lorry is only partly loaded that a little,
a very little difficulty arises. When it is partly loaded, and, in addition, drops oft and picks up its load at various points en route, the problem of calculating a ton-mile, whether it be the total for the journey or for each complete collection and delivery, becomes a mathematical work of considerable magnitude. I propose, however, only to deal with the problems in relation to contracts calling for full loads only.
So stated, the problem can be dismissed in a few words. To repeat, a ton-mile is one ton carried one mile ; it is two tons carried half a mile. Two ton-miles may be a ton carried two miles or two tons carried one mile; or even, half a ton carried four miles. The calculation is a matter of simple multiplication —the number of tons carried multiplied by the number of miles run is the ton-mileage. A fourtonner, fully loaded, running for half a mile has accomplished four times a half, which is two tonmiles. The same vehicle, still fully loaded and run for 40 miles, has done 160 ton-miles, and so on.
It is most important to bear in mind, however, that only loaded miles count. This becomes a matter for serious consideration when quoting for any eontract using the ton-mile as the basis, for there will be no payment whatever for empty running, so that, in calculating a fair charge per ton-mile, allowance
must be made for the fact that half the time the vehicle will not actually be earning anything.
It is this circumstance that puzzles some hauliers. It is necessary, in making a quotation first of all to find out the number of ton-miles which must be accomplished to complete the contract. Deduce from that, by the simple process of dividing by the lorry's capacity, the actual distance which it will run when loaded ; that distance will be doubled if the unloaded mileage is added, and it is that doubled mileage which must be the basis of the charge.
Let us consider a case in which a man is asked to ' make a quotation for the haulage of road material and he has to submit atender on this, to most hauliers, unfamiliar basis.
It so happens that I have an actual example before me in which a reader who owns a 30-cwt. lorry wishes to tender for this class of work. lie has, he says, to quote per ton-mile and also per day. He accompanies his letter by a curious sketch, reproduced herewith, of which he affords no explanation what ever. can therefore only conclude that the figures on the sketch refer to stretches of road which are at a distance of I, l, 2, 2, etc., miles from his base, and I am confirmed in this view by the fact that he asks me to assist him to quote in such a war that he can give a rising scale for increase of distance after the first mile.
A 30-cwt. chassis these days costs, in round figures, 4-id. per mile to run and 24 15s. per week to keep. On the mile trip I suppose it possible to complete 16 or 18 runs a day, aceomplishlng, of course, l tonmiles (14 tons multiplied by 1-miIe) per journey. The daily ton-mileage, therefore, will be from 24 to 27, and the actual number of miles covered by the lorry itself will be from 32 to 36, since there are two miles covered per trip. The running costs, therefore will be from 12s, to 125. 6d. per day, and the stan,ding charges, reckoning on 5idays a week, are 17s. 6d. per day, so that the total operating expense is from 29s. 6d. to 31s. a day. In addition, there are establishment costs and allowance for profit. I can only offer a nominal figure for establishment: charges, as these vary so much with the individual. This particular correspondent, no doubt, is aware, approximately, of his own, and will rectify my figure-5s. a day—accordingly. In the same way there are rarely two hauliers whose ideas as to what is a fair profit coincide, so that, again, I must put forward tentatively a figure 'of my own, and I will again suggest 5s. a day. The charge per day, therefore, is from 29s. 6d. to 31s., plus 10s. ; that is to say, 39s. 6d. to 41s. Far the quotation per ton-mile we have to bear in mind that there are 24 ton-miles carried -for 395. 6d., which is equivalent to Is. 8d. per ton-mile, and 27 carried for 41s.; which is.ls. 6-id. per ton-raile. Probably, if he takes myfigures for establishment charges and profit as being near enough, this haulierwill be well'advised to quote is. 7-14. per ton-mile for the first portion of the contract, while his trip length is one mile. The proper variation in the con-tract price, so as to allow for the gradually increasing distance from the base, is an interesting problem, which, for reasons of limitation of space, I must defer until ne-xt week. THE SKOTCH.