THE BRITISH STANDARDS FOR PNEUMATIC-TIRE RIMS.
6th May 1915
Page 7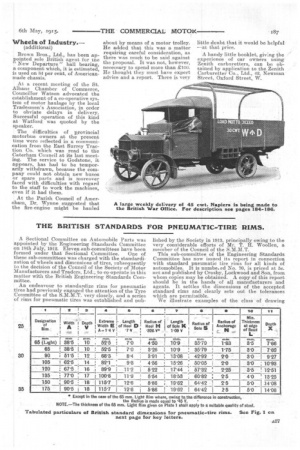 Page 8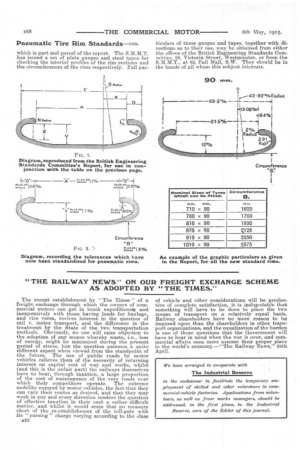 Page 7, 6th May 1915 —
THE BRITISH STANDARDS FOR PNEUMATIC-TIRE RIMS.
Close
A Sectional Committee on Automobile Parts was appointed by the Engineering Standards Committee on 18th July, 1912. Eleven sub-committees have been formed under that Sectional Committee. One of these sub-committees was charged with the standardization of wheels and dimensions of tires, subsequently to the decision of the Council of the Society of Motor Manufacturers and Traders, Ltd., to cooperate in this matter with the British Engineering Standards Committee.
An endeavour to standardize rims for pneumatic tires had previously engaged the attention of the Tyre Committee of the very closely, and a series of rims for pneumatic tires was established and nub lished by:the Society in 1913, principally owing to the very considerable efforts of Mr. T. H. Woollen, a member of the Council of the S.M.M.T.
This sub-committee of the Engineering Standards Committee has now issued its report in connection with standard pneumatic tire rims for all kinds of automobiles. It is numbe.ed No. 70, is priced at 5s. net and published by Crosby, Lockwood and Son, from whom copies may be obtained. A copy of this report should be in the hands of all manufacturers and agents. It settles the dimensions of the accepted standard rims and clearly sets out the tolerances which are permissible. We illustrate examples of the class of drawing which is part and parcel of the report. The S.M.M.T. has issued a set of plate ga,uges and steel tapes for checking the interior profiles of the rim sections and the circumferences of the rims respectively. Full par
ticulars of these gauges and tapes, together with directions as to their use, may be obtained from either the offices of the British Engineering Standards 00Mmittee, 28, Victoria, Street, Westminster, or from the S.M.M.T., at 83, Pall Mall, S.W. They should be in the hands of all whom this subject interests.