Answers to Queries.
6th May 1915
Page 19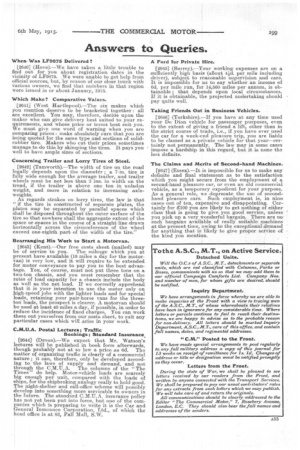 Page 19, 6th May 1915 —
Answers to Queries.
Close
When Was LF9875 Delivered?
L2640] (Hove).—We have taken a little trouble to find out for you about registration dates in the vicinity of LFe875. We were unable to get help from official sources, but, by reason of our close touch with various owners, we find that numbers in that region were issued in or about January, 1913.
Which Make? Comparative Values.
[2641] (West Hartlepool).—The six makes which you mention deserve to be bracketed together: all are excellent. You may, therefore, decide upon the maker who can give delivery best suited to your requirements, and whose price or terms best suit you. We must give one word of warning when you are comparing prices: make absolutely sure that you are being quoted for the same type and sections of solidrubber tire. Makers who cut their prices sometimes manage to do this by skimping the tires. It pays you well to have ample sizes of sections.
Concerning Trailer and Lorry Tires of SteeL [2642] (Tainworth).—The width of tire on the road legally depends upon the diameter; a 7-211. tire is fully wide enough for the average trailer, and trailer wheels must be not less than 3 ins.. in. width on the tread, if the trailer is above one ton in unladen weight, and more in relation to increasing axleweights.
As regards strakes on lorry tires, the law is that "if the tire is constructed of separate plates, the plates may be separated by parallel spaces which shall be disposed throughout the outer surface of the tire so that nowhere shall the aggregate extent of the space or spaces in the course of a straightdine drawn horizontally across the circumference of the wheel exceed one-eighth p.ait of the width of the tire."
Rearranging His Work to Start a Motorvan.
[2643] (Kent).—Our free costs sheet (mailed) may be of service to you. The mileage whiCh you at present have. available (16 miles a day for the motorvan) is very low, and it will require to be extended for motor conveyance to pay you to the best advantage. You, of course, must not put three tons on a two-ton chassis, and you must remember that the rates of load capacity for a chassis include the body as well as the net load. If we correctly apprehend that it is your intention to use the motor only on high-speed jobs with the lighter loads and for special loads, retaining your pair-horse vans for the threeton loads, the prospect is clearer. A motorvan should be used at least 40 miles a day, if possible, in order to reduce the incidence of fixed charges. You can work these out yourselves from our costs sheet, to suit any particular cases which will arise in your work.
C.M.U.A. Postal Lectures; Traffic Bookings; Standard Insurance.
[2644] (Devon).—We expect that Mr. Watson's lectures will be published in book form afterwards, though probably not at so low a price as Gcl. The matter of organizing traffic is clearly of a commercial nature.; it can, therefore, only be developed according to the laws of supply and demand, and not through the C.M.U.A. The columns of the " The Times" do help. Motor-vehicle loads are scarcely big enough per unit, compared with the loads of ships, for the shipliroking analogy really to hold good. The night-shelter and call-office scheme will possibly develop into something more servicable to owners in the future. The standard C.IVI.U.A. insurance policy has not yet been put into force, but one of the companies which is preparing to write it is the Car and General Insurance Corporation, Ltd., of Which the head office is at 83, Pall Mail, S.W. A Ford for Private Hire.
[2645] (Surrey).—Your working expenses are on a 6ufficientiy high basis (about, 4d. per mile including driver.), subject to reasonable supervision and care. It is impossible for us to say whether. .an income of 6d.. per mile run, for 14,560 miles per annum, is obtainable; that depends upon local circumstances. If it is obtainable, the projected undertaking should pay quite well.
Taking Friends Out in Business Vehicles.
[2646] (Yorkshire).—If you have at any time used your De Dion vehicle for passenger purposes, even to the extent of giving a friend a lift, other than in the strict course of trade, i.e., if you have ever used the car for a week-end pleasure trip, you are liable to be classed as a private vehicle for that year—certainly not permanently. The law may in some cases impose a hardship in this regard, but it is none the less definite.
The Claims and Merits of Second-hand Machines.
[2647] (Essex).—It is impossible for us to make any definite and final statement as to the satisfaction which you might secure from the employment of a second-hand pleasure car, or even an old commercial vehicle, as a temporary expedient for your purpose. As a general rule, we deprecate the use of secondhand pleasure cars. Such employment is, in nine cases out of ten, expensive and disappointing. Certainly for £100 you are likely to get nothing of either class that, is going to give you good service, unless you pick up a very wonderful bargain. There are no such bargains available of really suitable machines at the present time, owing to the exceptional demand for anything that is likely to give proper service of the kind you mention.