Cheap Steam.
6th May 1915
Page 18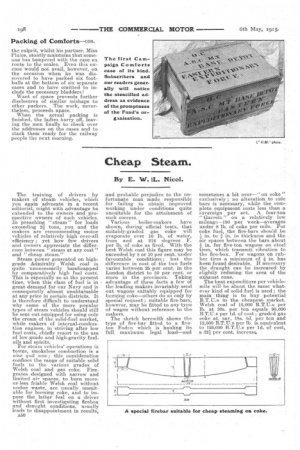 Page 18, 6th May 1915 —
Cheap Steam.
Close
By E. W. IL1 The training of drivers by makers of steam vehicles, which you again advocate in a recent editorial, might with advantage be extended to the owners and prospective owners of such vehicles. In preaching "steam" for loads exceeding 2,1 tons, you and the makers are recommending motor vehicles of relatively high over-all efficiency ; yet how few drivers and owners appreciate the difference between steam at any cost" and "cheap steam."
Steam power generated on highgrade Admiralty Welsh coal is quite unnecessarily handicapped by comparatively high fuel costs. This is especially so at the present time, when this class of fuel is in great demand for our Navy and is consequently almost unobtainable at any price in certain districts. It is therefore difficult to understand why some of the more popular types of steam vehicles should still be sent out equipped for using only the cream of the solid-fuel market, while makers of internal-combustion engines, in striving after low fuel costs, chiefly resort to the use of low-grade and high-gravity fuel oilsand spirits.
For steam vehicles' operations in towns, smokeless combustion is a szne cud non ; this consideration confines the range of suitable solid fuels to the various grades of Welsh coal and gas coke. Firegrates designed with narrow and limited air spaces, to burn moreor-less friable Welsh coal without undue waste, are usually unsuitable for burning coke, and to impose the latter fuel on a driver without first investigating firebox and draught conditions, usually leads to disappointment in results,
A50 and probable prejudice to the unfortunate man. made responsible for failing to obtain improved working under conditions quite unsuitable for the attainment of such success.
Various boiler-makers have shown, during official tests, that suitably-graded gas coke will evaporate over 10 lb. of water, from and at 212 degrees . F. per lb. of coke as fired. With the best Welsh coal this figure may be exceeded by 8 or 10 per cent. under favourable conditions ; but the difference in cost of the two fuels varies between 25 per cent. in the London district to 50 per cent. or more in the provinces. Taking advantage of these facts a few of the leading makers invariably send out wagons suitably equipped for burning coke—others do so only by special request ; suitable fire-bars, however, may be fitted to any type of wagon without reference to the makers.
The sketch herewith shows the type of fire-bar fitted to a fiveton Peden which is hauling its full maximum legal load—and sometimes a bit over—" on coke" exclusively ; no alteration to side bars is necessary, while the corn:, plete equipment costs less than_a sovereign per set. A four-ton "Garrett' on a relatively low mileage-150 per week—averages under 8 lb. of coke per mile. For coke fuel, the fire-bars should be in. to in. in thickness and the air spaces between the bars about in. for five-ton wagons on steel tires, which transmit vibration to the. fire-box. For wagons on rubber tires a minimum of in. has been found desirable. If necessary the draught can be increased by slightly reducing the area of the exhaust cone.
The heat expenditure per vehiclemile will be about the same whatever kind of solid fuel is used ; the main thing is to buy potential B.T.U.s in the cheapest market. Welsh coal of 15,000 B.T.U.s per lb. at 30s. per ton equals 95,000 B.T.U.s per 14. of cost ; graded gas coke at, say, 18s. 4d, per ton and 12,500 B.T.U.s per /b. is equivalent to 125,000 B.T.U.s per id. of cost, a 321 per cent. increase,