Our Fund, and the Widespread . Support for It.
6th May 1915
Page 1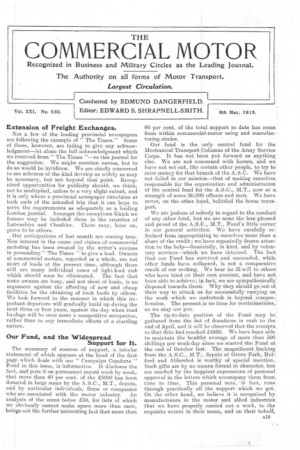 Page 1, 6th May 1915 —
Our Fund, and the Widespread . Support for It.
Close
The summary of sources of support, a, tabular statement of whichappears at the head of the first page which, deals with our " Campaign Cemforts " Fund in this issue, is informative. It discloses the fact, and puts it on permanent record week by week, that more than 40 per cent. of the 5000 has been donated in large sums by the A.S.C., MT., depots, and by particular individuals, firms or companies who are associated with the motor industry. An analysis of the sums below C50, for lists of which we obviously cannot make space more than once, brings out the further interesting fact that more than SO per cent, of the total support to date has come from within commercial-motor using and manufacturing circles.
Our fund is the only central fund for the Mechanical Transport Columns of the Army Service. Corps. It has not been put forward as anything' else. We are not concerned with horses, and we have not set out, like certain other people, to try to raise money for that branch of the A.S.C. We have not failed in our mission—that of making ourselves responsible for the organization and administration of the central fund for the A.S.C., MT., now at a_ strength of some 20,000 officers and men. We, have never; on the other hand, belittled the horse transport.
We are jealous of nobody in regard to the conduct of any other fund, but we are none the less pleased and -proud of the A.S.C., M.T., Fund's little corner,. in our general activities. We have carefully refrained from appropriating to ourselves more than a. share of the credit ; we have repeatedly drawn attention to the help—financially, in kind, and by voluntary services—which we have obtained. The fact, that our Fund has survived 'and succeeded, while other funds have collapsed, is not a comparative: result of our seeking. We bear no ill-will to others who have tried on their own account, and have not,. been able to achieve ; in fact, we are sympathetically. disposed towards them. Why they should go out of: their way to attack us for successfully carrying on, the work which we undertook is beyond comprehension. The present is no time for recriniinations,. so we stay our pen.
The. up-to-date position of the Fund may be, gathered from the list of donations in cash to the end of April, and it will be observed that the receipts; to that date had reached £4336. We have been able, to maintain the healthy average of more than 500 shillings per week-day since we started the Fund at. the end of October last. The magnificent Hacking from the A.S.C., M.T., depots at G-rOve Park, Bule ford and Aldershot is worthy of special mention.. Such gifts are by no means formal in character, but are marked by the happiest expressions of personal. approval in the letters which accompany them from, time to time. This personal note, 'in fact, runs, through practically all the support which we get.. On the other hand, we believe it is recognized by: manufacturers in the motor and allied industries that we have properly carried out a work, to the requisite extent in their name, and on their behalf,