Extension of Freight Exchanges.
6th May 1915
Page 1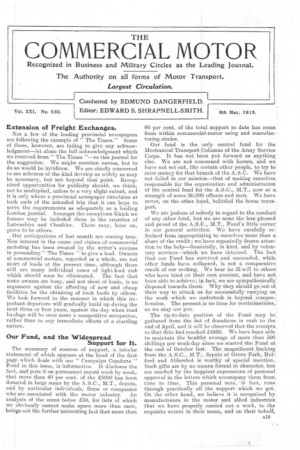 Page 1, 6th May 1915 —
Extension of Freight Exchanges.
Close
Not a few of the leading provincial newspapers are following the example of " The Times." Some of these, however, are failing to give any acknowledgment—let alone the full acknowledgment which we received from" The Times "—to this journal for the suggestion. We might mention names, but to do so would be invidious. We are. chiefly concerned to see schemes of the kind develop as widely as may be necessary, but not beyond that point. Recognized opportunities for publicity should, we think, not be multiplied, unless to a very slight extent, and it is only where a provincial newspaper circulates at both ends of the intended trip that it can hope to serve the requirements as adequately, as a leading London journal. Amongst the exceptions ;Ila,rhich we foresee may be included those in the counties of Lancashire and Cheshire. There may, later on, prove to be others.
Our anticipations of last month are corning true. New interest in the cause and claims of commercial motoring has been created by the writer's success in persuading" The Times "to give a lead. Owners of commercial motors, regarded as a. whole, are not short of loads at the present lime, although there still are many individual cases of light-load risk which should soon be eliminated. The fact that Some owners are busy, and not short of loads, is no argument against the affording of new and cheap facilities for the obtaining of back loads by others. We look forward to the manner in which this important departure will gradually build up during the next three or four years, against the day when road haulage will be once more. a competitive occupation, rather than to any immediate effects of a startling nature.