Furniture Removal : The Advantages of Small Units.
6th March 1923
Page 24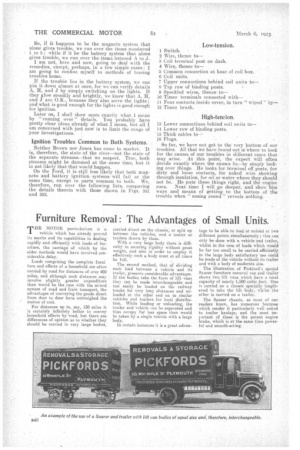 Page 24, 6th March 1923 —
Furniture Removal : The Advantages of Small Units.
Close
THE MOTOR pantechnicon is a vehicle which has already proved its merits and its capabilities in dealing rapidly and efficiently with loads of furniture, the carriage of which by the older methods would have involved considerable delay.
Loads comprising the complete furni ture and effects of a household are often carried by road for distances of over 400 miles, and although such distances may involve slightly greater expenditure than would be the case with the mixed system of road and train transport., the advantages of conveying the goods direct from door to door have outweighed the matter of cost.
For distances up to, say, 150 miles it is certainly infinitely better to convey household effects by road, but there are differences of opinion as to whether they should be carried in very large bodies, carried direct on the chassis, or split up between the vehicles, and a trailer or trailers drawn by them. With a very large body there is difficulty in securing rigidity without great weight., and also in order to employ it effectively such a body must at all times be full.
The second method, that of dividing each load between a. vehiele and its trailer, presents considerable advantages. If the bodies take the form of lift vans they can be made interchangeable and can easily be loaded on the railway trucks for very long distances and unloaded at, the other end on to similar vehicles and trailers for local distribution. While loading or unloading, the trailer and vehicle can be separated and thus occupy far less space than would be taken by a, single vehicle with a large body. In certain instances it is a great advan tage to be able to load or unload at two different points simultaneously ; this can only be done with a Vehicle and trailer, whilst in the case of loads which would be far too small to be carried efficiently in the large body satisfactory use could be made of the vehicle without its trailer and with a body of moderate size.
The illustration of Pickford's special Sauter furniture removal van and trailer shows two lift vans which have a total capacity of nearly 1,500 cubic feet. One is carried on a chassis specially lengthered to take the lift body, whilst the ether is carried on a trailer.
The Sauter chassis, as most of our readers know, has numerous features which render it particularly well suited to trailer haulage, and the most important of these is the patent engine brake, which is at the same time powerful and smooth-acting.