LOWER COACH RATES FOR 1923.
6th March 1923
Page 18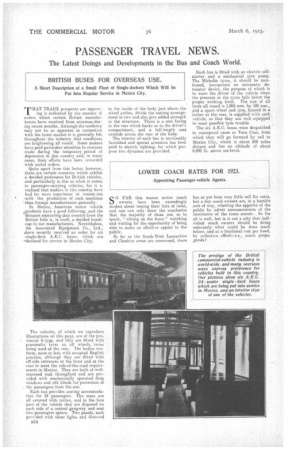 Page 19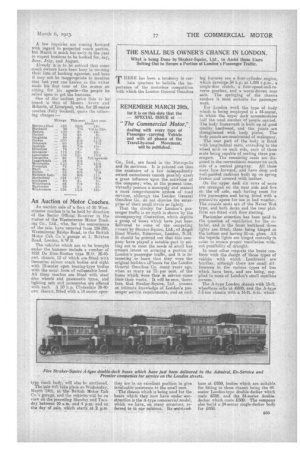 Page 18, 6th March 1923 —
LOWER COACH RATES FOR 1923.
Close
Appointing Passenger-vehicle Agents.
S0 FAR this season motor coach owners have been exceedingly modest about issuing their lists of rates, and one can only draw the conclusion that the majority of them are, so to speak, " sitting on the fence" watching and waiting for the opportunity of being able to make all effective appeal to the public.
8o far as the South-West Lancashire and Cheshire areas are concerned, there has as yet been very little call for rates, but a. few coach owners are, in a humble sort of way, whetting the appetite of the public by adroit announcements of the imminence of the tours season. So far all is well, but is it not a pity that individual coach owners should be doing separately what could be done much *better, and at a fractional cost per head, by collective effort—i.e., coach propaganda? A few inquiries are coming forward with regard to projected coach parties, but March is much too early in the year to expect business to be booked for, say, June, July, and August.
Already it is to be noticed that some coach owners have been busy in revising their lists of booking agencies, and hero it may not be inappropriate to mention that last year one known to the writer made his first tour of the season an outing for his agents—the people he relied upon to get the business.
One of the earliest price lists to be issued is thnt. of Messrs. Avery and Roberts, of Liverpool, who, for 28-seater coaches (fully booked), quote the following charges :—
An Auction of Motor Coaches.
An auction sale of a fleet of 20 Westminster coaches is to be held by direction of the Senior Official Receiver in the matter of the Westminster Motor Trading Co., Ltd., who, for the convenience of the sale, have removed from 296-298, Westminster Bridge Road, to the British Motor Cab Co.'s garage at, 1, Buxton Road, London, S.V4.9.
The vehicles which are to be broueht under the hammer include a number of 1922 De Dion-Bouton type ILO. 30-40cwt. chassis, 12 of which are fitted with limousine saloon coach bodies mid eight with 18-seater open touring-type bodies with the usual form of collapsable hood. AR these coaches are fitted with steel disc wheels and pneumatic tyres, and lighting sets and accessories are offered with each. A 20 h.p. Clydesdale 30-40cwt. chassis, fitted with a 14-seater open type cOach body, will also be auctioned.
The Sale will take place on 'Wednesday, March 14th, at the British Motor Cab Co.'s garage, and the vehicles will he on view on the preceding Monday and Tuesday between 10 a.m. and 4 p.m. and on the day of sale, which starts. at.2 p.m.