Owner-driver cleared of Ulm cannabis charge
6th June 1996
Page 6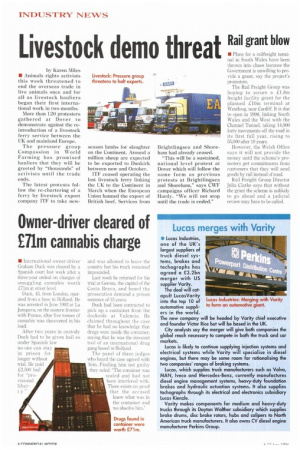 Page 6, 6th June 1996 —
Owner-driver cleared of Ulm cannabis charge
Close
• International owner-driver Graham Duck was cleared by a Spanish court last week after a three-year ordeal on charges of smuggling cannabis worth film at street level.
Duck. 43, from London, operated from a base in Holland. He was arrested in June 1993 at La Junquera, on the eastern frontier with France, after five tonnes of cannabis was discovered in his load.
After two years in custody Duck had to be given bail as under Spanish law no-one can stay in prison for longer without trial. He paid 1:2,500 bail for "provisional libert y " and was allowed to leave the country but his truck remained impounded.
Last week he returned for his trial at Gerona, the capital of the Costa Brava, and heard the prosecution demand a prison sentence of 13 years.
Duck had been contracted to pick up a container from the dockside at Valencia. He claimed throughout the case that he had no knowledge that drugs were inside the container, saying that he was the innocent tool of an international drug gang based in Holland.
The panel of three judges who heard the case agreed with him. Finding him not guilty they ruled: The container was sealed and had not been interfered with. There exists no proof that the accused knew what was in the container and we absolve him."