Lucas merges with Varity
6th June 1996
Page 6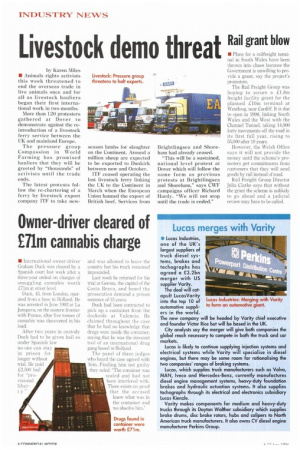 Page 6, 6th June 1996 —
Lucas merges with Varity
Close
Lucas Industries, one of the UK's largest suppliers of truck diesel systems, brakes and tachographs has agreed a £3.2bn merger with US supplier Varity.
The deal will catapult LucasVarity into the top TO of automotive suppliers in the world. The new company will be headed by Varity chief executive and founder Victor Rice but will be based in the UK.
City analysts say the merger will give both companies the global reach necessary to compete in both the truck and car markets.
Lucas is likely to continue supplying injection systems and electrical systems while Varity will specialise in diesel engines, but there may be some room for rationalising the two companies' ranges of braking systems.
Lucas. which supplies truck manufacturers such as Volvo, MAN, lveco and Mercedes-Benz, currently manufactures diesel engine management systems, heavy-duty foundation brakes and hydraulic actuation systems. It also supplies tachographs through its electrical and electronics subsidiary Lucas Kienzle.
Varity makes components for medium and heavy-duty trucks through its Dayton Walther subsidiary which supplies brake drums, disc brake rotors, hubs and calipers to North American truck manufacturers. It also owns CV diesel engine manufacturer Perkins Group. Lucas Industries: Merging with Varity to form an automotive giant.