Neighbourhood WATCH
6th June 1996
Page 50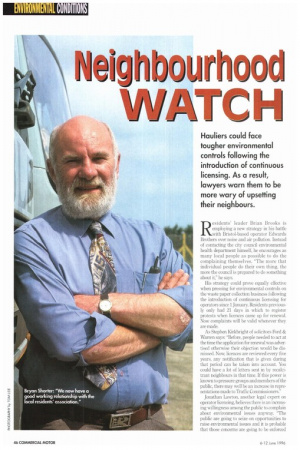 Page 51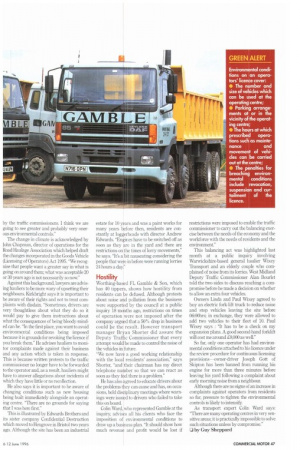 Page 50, 6th June 1996 —
Neighbourhood WATCH
Close
Hauliers could face tougher environmental controls following the introduction of continuous licensing. As a result, lawyers warn them to be more wary of upsetting their neighbours.
Residents' leader Brian Brooks is employing a new strategy in his battle with Bristol-based operator Edwards Brothers over noise and air pollution. Instead of contacting the city council environmental health department himself, he encourages as many local people as possible to do the complaining themselves. "The more that individual people do their own thing, the more the council is prepared to do something about it," he says.
Ills strategy could prove equally effective when pressing for environmental controls on the waste paper collection business following the introduction of continuous licensing for operators since 1 January. Residents previously only had 21 days in which to register protests when licences came up for renewal. Now complaints will he valid whenever they are made.
As Stephen Kirkbright of solicitors Ford & Warren says: "Before, people needed to act at the time the application for renewal was advertised otherwise their objection would be dismissed. Now licences are reviewed every five years, any notification that is given during that period can be taken into account. You could have a lot of letters sent in by recalcitrant neighbours in that time. If this power is known to pressure groups and members of the public, there may well be an increase in representations made to Traffic Commissioners."
Jonathan Lawton, another legal expert on operator licensing, believes there is an increasing willingness among the public to complain about environmental issues anyway. "The public are going to seize on opportunities to raise environmental issues and it is probable that those concerns are going to be enforced
by the traffic commissioners. I think we are going to see greater and probably very onerous environmental controls.
The change in climate is acknowledged by John Chapman, director of operations for the Road Haulage Association which helped draft the changes incorporated in the Goods Vehicle (Licensing of Operators) Act 1995. "We recognise that people want a greater say in what is going on around them; what was acceptable 20 or 30 years ago is not necessarily so now."
Against this background, lawyers are advising hauliers to be more wary of upsetting their neighbours. Kirkbright says it is important to be aware of their rights and not to treat complaints with disdain. "Sometimes, drivers are very thoughtless about what they do so it would pay to give them instructions about what the consequences of being bloody-minded can be. "In the first place, you want to avoid environmental conditions being imposed because it is grounds for revoking the licence if you break them." He advises hauliers to monitor complaints made against their business and any action which is taken in response. This is because written protests to the traffic commissioner no longer have to be forwarded to the operator and, as a result, hauliers might have to answer allegations about incidents of which they have little or no recollection.
He also says it is important to be aware of changing conditions such as new housing being built immediately alongside an operating centre. "There are no grounds for saying that I was here first."
This is illustrated by Edwards Brothers and its sister company Confidential Destruction which moved to Hengrove in Bristol two years ago. Although the site has been an industrial estate for 10 years and was a paint works for many years before then, residents are constantly at loggerheads with director Andrew Edwards. "Engines have to be switched off as soon as they are in the yard and there are restrictions on the times of lorrymovements," he says. "It's a bit nauseating considering the people that were in before were running lorries 24 hours a day,"
Hostility
Worthing-based FL Gamble & Son, which has 40 tippers, shows how hostility from residents can be defused. Although protests about noise and pollution from the business were supported by the council at a public inquiry 18 months ago, restrictions on firms of operation were not imposed after the company argued that a 50% drop in business could be the result. However transport manager Bryan Shorter did assure the Deputy Traffic Commissioner that every attempt would be made to control the noise of the vehicles in future.
"We now have a good working relationship with the local residents' association," says Shorter, 'and their chairman has my direct telephone number so that we can react as soon as they feel there is a problem."
He has also agreed to educate drivers about the problems they can cause and has, on occasions, held disciplinary meetings where warnings were issued to drivers who failed to take this on board.
Colin Ward, who represented Gamble at the inquiry, advises all his clients who face the imposition of environmental conditions to draw up a business plan. It should show how much revenue and profit would be lost if restrictions were imposed to enable the traffic commissioner to carry out the balancing exercise between the needs of the economy and the workforce with the needs of residents and the environment."
This balancing act was highlighted last month at a public inquiry involving Warwickshire-based general haulier Wixey Transport and an elderly couple who complained of noise from its lorries. West Midland Deputy Traffic Commissioner Alan Bourlet told the two sides to discuss reaching a compromise before he made a decision on whether to allow an extra four vehicles.
Owners Linda and Paul Wixey agreed to buy an electric fork-lift truck to reduce noise and stop vehicles leaving the site before 06:00Iu-s; in exchange, they were allowed to add two vehicles to their fleet of 10. Paul Wixey says : "It has to be a check on my expansion plans. A good second-hand forklift will cost me around £8,000 as well."
So far, only one operator has had environmental conditions attached to his licence under the review procedure for continuous licensing provisions—owner-driver Joseph Gott of Skipton has been banned from running his engine for more than three minutes before leaving his yard following a complaint about early morning noise from a neighbour.
Although there are no signs of an increase in complaints against operators from residents so far, pressure to tighten the environmental controls is likely to intensify.
As transport expert Colin Ward says: "There are many operating centres in very sensitive areas; it is practically impossible to solve such situations unless by compromise."
Li by Guy Sheppard
Tags
People
:
Colin Ward
,
Alan Bourlet
,
Stephen Kirkbright
,
John Chapman
,
Bryan Shorter
,
Joseph Gott
,
Owners Linda
,
Jonathan Lawton
,
Andrew Edwards
,
Brian Brooks
,
Paul Wixey
,
Guy Sheppard