WHAT PRICE FAIR TRADE?
6th June 1996
Page 5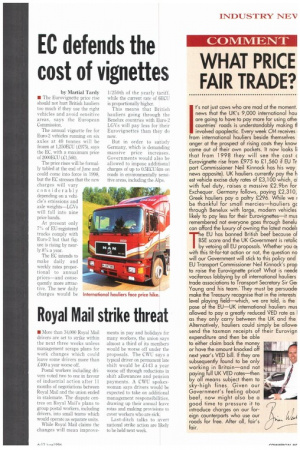 Page 5, 6th June 1996 —
WHAT PRICE FAIR TRADE?
Close
It's not just cows who are mad at the moment. news that the UK's 9,000 international hau are going to have to pay more for using othe countries' roads is understandably making c involved apoplectic. Every week CM receives from international hauliers beside themselves anger at the prospect of rising costs they know come out of their own pockets. It now looks I that from 1998 they will see the cost ( Eurovignette rise from £975 to £1,560 if EU Tr port Commissioner Neil Kinnock has his way news opposite). UK hauliers currently pay the f est vehicle excise duty rates of £3,100 which, al with fuel duty, raises a massive £2.9bn for Exchequer. Germany follows, paying £2,310, Greek hauliers pay a paltry £296. While we be thankful for small mercies—hauliers gi through Benelux with large, modern vehicles likely to pay less for their Eurovignettes—it mu: remembered not everyone goes through Benelu can afford the luxury of owning the latest model! he EU has banned British beef because o BSE scare and the UK Government is retali( by vetoing all EU proposals. Whether you a with this tit-for-tat action or not, the question no will our Government will stick to this policy and EU Transport Commissioner Neil Kinnock's prop to raise the Eurovignette price? What is nee ( vociferous lobbying by all international hauliers trade associations to Transport Secretary Sir Ge Young and his team: They must be persuade make the Treasury recognise that in the interests level playing field—which, we are told, is the pose of the EU—UK international hauliers mu: allowed to pay a greatly reduced VED rate as I as they only carry between the UK and the Alternatively, hauliers could simply be allowe send the taxman receipts of their Eurovign expenditure and then be able
to either claim back the money_ or have the amount knocked off next year's VED bill. If they are subsequently found to be only working in Britain—and not paying full UK VED rates—then by all means subject them to sky-high fines. Given our Government's feeling about beef, now might also be a good time to pressure it to introduce charges on our for eign counterparts who use our roads for free. After all, fair's fair.