EC defends the cost of vignettes
6th June 1996
Page 5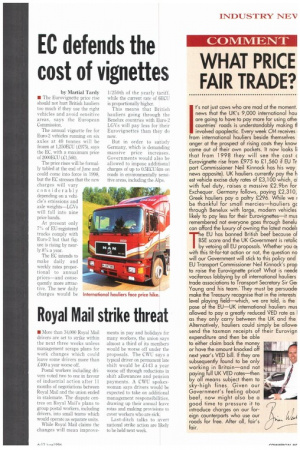 Page 5, 6th June 1996 —
EC defends the cost of vignettes
Close
by Martial Tardy • The Eurovignette price rise should not hurt British hauliers too much if they use the right vehicles and avoid sensitive areas, says the European Commission.
The annual vignette fee for Euro-2 vehicles running on six axles at 40 tonnes will be frozen at 1,250ECU (£975), says the EC, with a maximum price of 2000ECU (£1,560).
At present only 7% of EU-registered trucks comply with Euro-2 but that figure is rising by nearly 8% a year.
The EC intends to make daily and weekly rates proportional to annual prices—and consequently more attractive. The new daily charges would be 1/250th of the yearly tariii. while the current rate of 6ECU is proportionally higher.
This means that British hauliers going through the Benelux countries with Euro-2 LGVs will pay less for their Eurovignettes than they do now.
But in order to satisfy Germany, which is demanding massive price increases. Governments would also be allowed to impose additional charges of up to 0.5ECU/lan on roads in environmentally sensitive areas, including the Alps.