in the court n Commercial often see that pec accused
6th June 1996
Page 47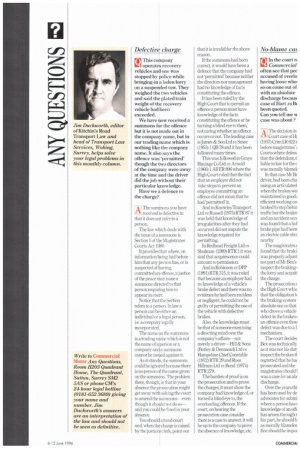 Page 47, 6th June 1996 —
in the court n Commercial often see that pec accused
Close
of overlo having loose whe so on come out of with an absolute discharge becaus case of Hart vs Bt been quoted. Can you tell me case was about ?
—IA The decision in .4.1-1 Court case of Hi (1957) Crim LR 622 i before magistrates' Courts where defenc that the defendant, t liable in law for the c was morally blamell
In that mse Mr Be driver, had been cha using an articulated when the brakes we maintained in good ; efficient working on braked to stop behin traffic but the brake and an accident occi was found that a hol brake pipe had been an electric cable shoi nearby.
The magistrates found that the braid was properly adjust not part of Mr Bex's inspect the braking the lorry and acquit the charge.
The prosecution the High Court whic that the obligation li the braking system absolute one so that who drove a vehicle defect in the brakes an offence even thou defect svas due to a f mechanism.
The court decide( Bex was technically as it was not his dur inspect the brakes tl regretted that he hat prosecuted and the magistrates should I was a case for an ah discharge.
Over the years thi has been used by de advocates for submi where a person has knowledge of an offe has arisen through r his part, he should h as morally blameles fine should be impo: