ON A ROLL
6th June 1996
Page 44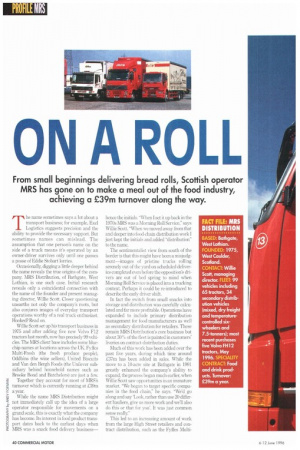 Page 45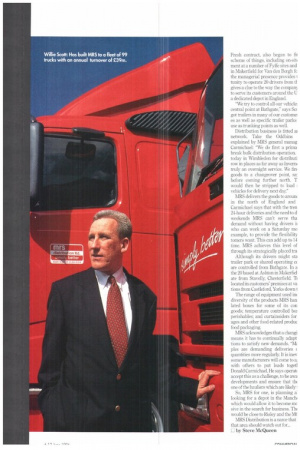 Page 44, 6th June 1996 —
ON A ROLL
Close
From small beginnings delivering bread rolls, Scottish operator MRS has gone on to make a meal out of the food industry, achieving a £39m turnover along the way.
The name sometimes says a lot about a transport business; for example, Exel Logistics suggests precision and the ability to provide the necessary support. But sometimes names can mislead. The assumption that one person's name on the side of a truck means it's operated by an owner-driver survives only until one passes a posse of Eddie Stobart lorries.
Occasionally, digging a little deeper behind the name reveals the true origins of the company MRS Distribution, of Bathgate, West Lothian, is one such case. Initial research reveals only a coincidental connection with the name of the founder and present managing director, Willie Scott. Closer questioning unearths not only the company's roots, but also conjures images of everyday transport operations worthy of a real truck enthusiast. Hooked? Read on.
Willie Scott set up his transport business in 1975 and after adding five new Volvo F12 tractors last month, now has precisely 99 vehicles. The MRS client base includes some bluechip names at locations across the UK. Fyffes Multi-Fresh (the fresh produce people), Oddbins (the wine sellers), United Biscuits and Van den Bergh Foods (the Unilever subsidiary behind household names such as Brooke Bond and Batchelors) are just a few.
Together they account for most of MRS's turnover which is currently running at 09m a year.
While the name MRS Distribution might not immediately call up the idea of a large operator responsible for movements on a grand scale, this is exactly what the company has become. Its interest in food product transport dates back to the earliest days when MS was a snack food delivery business—
hence the initials.When I set it up back in the 1970s MRS was a Morning Roll Service," says Willie Scott. "When we moved away from that and deeper into food-chain distribution work I just kept the initials and added "distribution" to the name.
The sentimentalist view from south of the border is that this might have been a misjudgment—images of pristine trucks rolling serenely out of the yard on scheduled deliveries completed even before the opposition's drivers are out of bed spring to mind when Morning Roll Service is placed into a trucking context. Perhaps it could be re-introduced to describe the early driver shift,
In fact the switch from small snacks into storage and distribution was carefully calculated and far more profitable. Operations have expanded to include primary distribution management for food manufacturers as well as secondary distribution for retailers. These remain MRS Distribution's core business but about 30% of the fleet is painted in customers' liveries on contract-distribution duties.
Much of this work has been added over the past five years, during which time around ..£37m has been added in sales. While the move to a 10-acre site at Bathgate in 1991 greatly enhanced the company's ability to expand. the process began much earlier, when Willie Scott saw opportunities in an immature market. "We began to target specific companies in the food chain," he says. "We'd go along and say look, rather than use 20 different hauliers, give us more work and we'll also do this or that for you'. It was just common sense really."
This led to an increasing amount of work from the large High Street retailers and contract distribution, such as the Fyffes Fresh contract, also began to fit scheme of things, including on-sit' ment at a number of Fyffe sites and in Makerfield for Van den Bergh fc the managerial presence provides I tunity to operate 20 drivers from tt gives a clue to the way the compam to serve its customers around the 12 a dedicated depot in England.
"We try to control all our vehicle central point at Bathgate," says Sc got trailers in many of our custome es as well as specific trailer parks use as trunking points as well.
Distribution business is fitted ai network. Take the Oddbins explained by MRS general manag Carmichael: "We do first a prima break bulk distribution operation. today in Wimbledon for distributi row in places as far away as Inverni truly an overnight service. We fir.., goods to a changeover point. sa: before coming further north. T would then be stripped to load vehicles for delivery next day."
MRS delivers the goods to annul( in the north of England and Carmichael says that with the tren 24-hour deliveries and the need to d weekends MRS can't serve tha demand without having drivers ii who can work on a Saturday ma example, to provide the flexibility comers want. This can add up to 14 time. MRS achieves this level of through its strategically placed tra Although its drivers might sta trailer park or shared operating a are controlled from Bathgate. In a the 20 based at Ashton in Makerfiel ate from Stavelly, Chesterfield. Ti located in customers' premises at va dons from Castleford, Yorks down I The range of equipment used im diversity of the products MRS han lated boxes for some of its con goods; temperature controlled btu perishables; and curtainsiders for ages and other food-related produc food packaging.
MRS acknowledges that a changi means it has to continually adapt tions to satisfy new demands. "nt pies are demanding deliveries c quantities more regularly. lt is inev some manufacturers will come to a; with others to put loads togetl Donald Carmichael. He says operah accept this as a Challenge, to be awa developments and ensure that tta one of the hauliers which are likely'
So. MRS for one, is planning a: looking for a depot in the Manch' which would allow it to become mc sive in the search for business. Thi would be close to Risley and the ME MRS Distribution is a name that that area should watch out for...
L by Steve McQueen