FUTURE LEGISLATIOI
6th June 1996
Page 43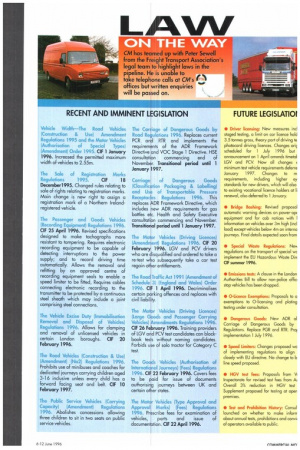 Page 43, 6th June 1996 —
FUTURE LEGISLATIOI
Close
• Driver licensing: New measures incl staged testing, a limit on car licence hold 3.5 tonnes gross, theory part of driving te photocard driving licences. Changes oric scheduled for 1 July 1996 but announcement on 1 April amends timetak LGV and PCV. Now all changes minimum test vehicle requirements deferre January 1997. Changes to m requirements, including higher ey standards for new drivers, which will also to existing vocational licence holders at Ii renewal, also deferred to 1 January.
• Bridge Bashing: Revised proposal automatic warning devices on power-opt equipment and for cab notices with I information on vehicles over 3m high (incl load) except vehicles below 4m on intern journeys. Final details expected soon from • Special Waste Regulations: Nevi regulations on the transport of special wc implement the EU Hazardous Waste Din CIF summer 1996.
• Emissions tests: A clause in the London Authorities Bill to allow non police of fic stop vehicles has been dropped.
• 0-Licence Exemptions: Proposals to a exemptions to 0-licensing and plating testing under consultation • Dangerous Goods: New ADR al Carriage of Dangerous Goods by Regulations. Replace PGR and RTR. Proi implementation 1 July 1996.
• Speed Limiters: Changes proposed wc of implementing regulations to align closely with EU directive. No change to h line speed proposed
• HGV test fees: Proposals from V Inspectorate for revised test fees from A Overall 3% reduction in HGV test Supplement proposed for testing at oper premises.
• Test and Prohibition History: Consul launched on whether to make inforn about annual tests, prohibitions and convi of operators available to public.