Free as a bird
6th June 1996
Page 40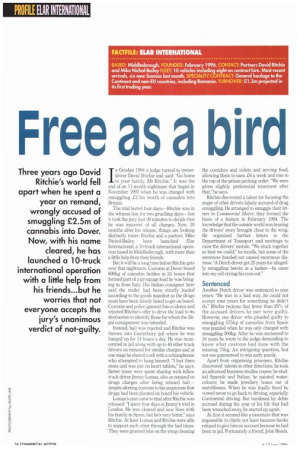 Page 42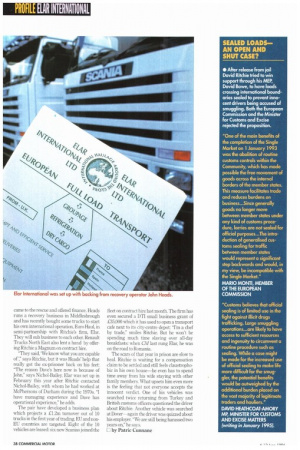 Page 40, 6th June 1996 —
Free as a bird
Close
In October 1994 a judge turned to ownerdriver David Ritchie and said: "Go home to your family, Mr Ritchie." It was the end of an 11-month nightmare that began in November 1993 when he was charged with smuggling £2.5m worth of cannabis into Britain.
The trial lasted four days—Ritchie was in the witness box for two gruelling days—but it took the jury just 30 minutes to decide that he was innocent of all charges. Now, 20 months after his release, things are looking distinctly rosier. Ritchie and a partner, Mike Nichol-Bailey, have launched Elar International, a 10-truck international operation based in Middlesbrough, with more than a little help from their friends.
But it will be a long time before Ritchie gets over that nightmare. Customs at Dover found 600kg of cannabis hidden in 24 boxes that formed part of a groupage load he was bringing in from Italy. His Italian consignor later said the trailer had been strictly loaded according to the goods manifest so the drugs must have been falsely listed to get on board. Customs and police ignored this evidence and rejected Ritchie's offer to drive the load to its destination to identify those for whom the illegal consignment was intended.
Instead, bail was rejected and Ritchie was thrown into Canterbury jail where he was banged up for 14 hours a day He was incarcerated in jail along with up to 40 other truck drivers on remand for similar charges and at one stage he shared a cell with a schizophrenic who attempted to hang himself. "[lost three stone and was put on heart tablets," he says. Better times were spent sharing with fellow truck driver jimmy Lomax, also on remand on drugs charges after being refused bail despite alerting customs to his suspicions that drugs had been planted on board his vehicle.
Lomax's case came to trial after Ritchie was released: "I spent four days at jimmy's trial in London. He was cleared and now lives with his family in Spain, but he's very bitter," says Ritchie. At least Lomax and Ritchie were able to support each other through the bad times. They were granted jobs on the wing cleaning the corridors and toilets and serving food, allowing them to earn £6 a week and rise to the top of the prison pecking order: "We were given slightly preferential treatment after that,' he says.
Ritchie discovered a talent for focusing the anger of other drivers falsely accused of drug smuggling. He arranged to smuggle their letters to Commercial Motor, they formed the basis of a feature in February 1994. The knowledge that the outside world was hearing the drivers' story brought cheer to the wing. He organised further letters to the Department of Transport and meetings to raise the drivers' morale. "We stuck together as best we could," he recalls, but some of the sentences handed out caused enormous distress: "A Dutch driver got 25 years for allegedly smuggling heroin in a tanker—he came into my cell crying his eyes out."
Sentenced
Another Dutch driver was sentenced to nine years: "He was in a bad way...he could not accept nine years for something he didn't do." Ritchie reckons that fewer than 25% of the accused drivers he met were guilty. However, one driver who pleaded guilty to smuggling 575kg of cannabis from Spain was pliz7led when he was only charged with smuggling 500kg. After he was sentenced to 10 years he wrote to the judge demanding to know what customs had done with the missing 75kg. An intriguing question, but not one guaranteed to win early parole.
Apart from organising prisoners, Ritchie discovered talents in other directions: he took an advanced business studies course; he studied Spanish and Italian; he painted watercolours; he made jewellery boxes out of matchboxes. When he was finally freed he vowed never to go back to driving, especially Continental driving. But burdened by debts accrued during the year of his life that had been wrenched away, he started up again.
At first it seemed like a mountain that was impossible to climb; not least because banks refused to give him an account because he had been in jail. Fortunately a friend, John Heads, came to the rescue and offered finance. Heads runs a recovery business in Middlesbrough and has recently bought some trucks to start his own international operation, Eurci Haul, in semi-partnership with Ritchie's firm, Elan They will sub business to each other. Renault Trucks North East also lent a hand by offering Ritchie a Magnum on contract hire.
"They said, 'We know what you are capable of'," says Ritchie, but it was Heads help that really got the ex-prisoner back on his feet: "The reason Dave's here now is because of John," says Nichol-Bailey. Elar was set up in February this year after Ritchie contacted Nichol-Bailey, with whom he had worked at McPhersons of Durham during the 1970s. "I have managing experience and Dave has operational experience," he adds.
The pair have developed a business plan which projects a £1.2m turnover out of 10 trucks in the first year of trading. EU and nonEL: countries are targeted. Eight of the 10 vehicles are leased: six new Scanias joined the fleet on contract hire last month. The firm has even secured a DTI small business grant of 1:35,000 which it has used to open a transport cafe next to its city-centre depot: "I'm a chef by trade," smiles Ritchie. But he won't be spending much time slaving over all-day breakfasts: when CM last rung Elar, he was on the road to Romania.
The scars of that year in prison are slow to heal. Ritchie is waiting for a compensation claim to be settled and still feels claustrophobic in his own house—he even has to spend time away from his wife staying with other family members. What upsets him even more is the feeling that not everyone accepts the innocent verdict. One of his vehicles was searched twice returning from Turkey and British customs officers questioned the driver about Ritchie. Another vehicle was searched at Dover—again the driver was quizzed about his employer. "We are still being harassed two years on," he says.
L by Patric Cunnane