Traffic area staff threaten strikes
6th June 1996
Page 4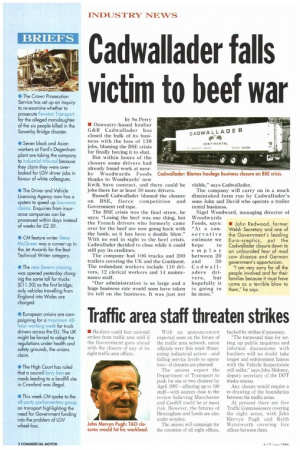 Page 4, 6th June 1996 —
Traffic area staff threaten strikes
Close
• Hauliers could face national strikes from traffic area staff if the Government goes ahead with the closure of any of its eight traffic area offices. With an announcement expected soon on the future of the traffic area network, union officials were this week threatening industrial action -and falling service levels to operators—if closures are planned.
The unions expect the Department of Transport to push for one or two closures by April 1997—affecting up to 100 staff—with sources close to the review believing Manchester and Cardiff could be at most risk. However, the futures of Birmingham and Leeds are also under scrutiny.
The unions will campaign for the retention of all eight offices, backed by strikes if necessary.
"The tumround time for setting up public inquiries and informal discussions with hauliers will no doubt take longer and enforcement liaison with the Vehicle Inspectorate will suffer," says John Moloney, deputy secretary of the DOT trades unions.
Any closure would require a re-drawing of the boundaries between the traffic areas.
At present there are five Traffic Commissioners covering the eight areas, with John Mervyn Pugh and Keith Waterworth covering five offices between them.