BRIEFS
6th June 1996
Page 4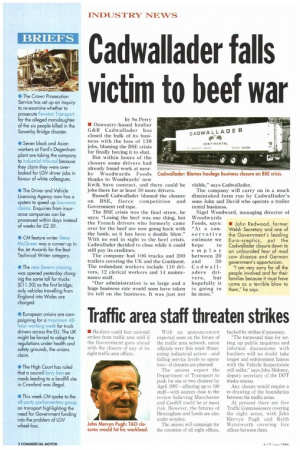 Page 4, 6th June 1996 —
BRIEFS
Close
• The Crown Prosecution Service has set up an inquiry to re-examine whether to prosecute Fewston Transport for the alleged manslaughter of the six people killed in the Sowerby Bridge disaster.
• Seven black and Asian workers at Ford's Dagenham plant are taking the company to industrial tribunal because they claim they were overlooked for LGV driver jobs in favour of white colleagues.
• The Driver and Vehicle Licensing Agency now has a system to speed up insurance claims. Enquiries from insurance companies can be processed within days instead of weeks for £2.50.
• CM feature writer Steve McQueen was a runner-up in the Jet Awards for the Best Technical Writer category.
• The new Severn crossing was opened yesterday charging the same toll for trucks (£11.50} as the first bridge; only vehicles travelling from England into Wales are charged.
• European unions are campaigning for a maximum 48hour working week for truck drivers across the EU. The UK might be Forced to adopt the regulations under health and safety grounds, the unions claim.
• The High Court has ruled that a council lorry ban on • roads leading to a landfill site in Crawford was illegal.
• This week CM spoke to the all-party parliamentary group on transport highlighting the need for Government funding into the problem of LGV wheel-loss.