CONCLUSION
6th June 1996
Page 38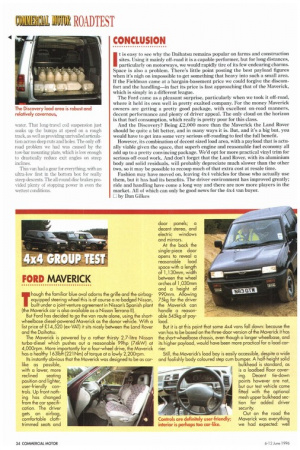 Page 38, 6th June 1996 —
CONCLUSION
Close
It is easy to see why the Daihatsu remains popular on farms and construction sites. Using it mainly off-road it is a capable performer, but for long distances, particularly on motorways, we would rapidly tire of its few endearing charms. Space is also a problem. There's little point posting the best payload figures when it's nigh on impossible to get something that heavy into such a small area. If the Fieldman came at a bargain-basement price we could forgive the discomfort and the handling—in fact its price is fast approaching that of the Maverick, which is simply in a different league.
The Ford came as a pleasant surprise, particularly when we took it off-road, where it held its own well in pretty exalted company. For the money Maverick owners are getting a pretty good package, with excellent on-road manners, decent performance and plenty of driver appeal. The only cloud on the horizon is that fuel consumption, which really is pretty poor for this class.
And the Discovery? Being £2,000 more than the Maverick the Land Rover should be quite a bit better, and in many ways it is. But, and it's a big but, you would have to get into some very serious off -roading to feel the full benefit.
However, its combination of decent sized load area, with a payload that is actually viable given the space, that superb engine and reasonable fuel economy all add up to a pretty convincing package. We'd opt for more practical vinyl trim for serious off-road work. And don't forget that the Land Rover, with its aluminium body and solid residuals, will probably depreciate much slower than the other two, so it may be possible to recoup much of that extra cost at resale time.
Fashion may have moved on, leaving 4x4 vehicles for those who actually use them, but it has had its benefits. The driver environment has improved greatly; ride and handling have come a long way and there are now more players in the market. All of which can only be good news for the 4x4 van buyer.
0 by Dan Gilkes