DAIHATSU FIELDMAN D aihatsu's Fourtrak range has been around for some
6th June 1996
Page 36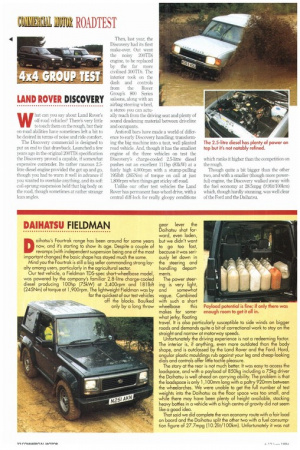 Page 37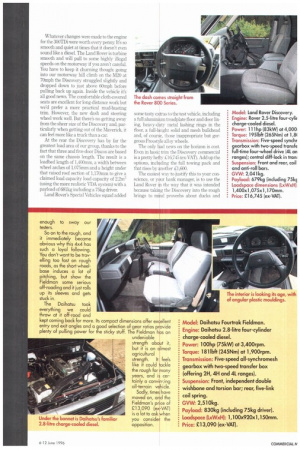 Page 36, 6th June 1996 —
DAIHATSU FIELDMAN D aihatsu's Fourtrak range has been around for some
Close
years now, and it's starting to show its age. Despite a couple of revamps (with independent suspension being one of the most important changes) the basic shape has stayed much the same. Mind you the Fourtrak is still a big seller commanding strong loyalty among users, particularly in the agricultural sector. Our test vehicle, a Fieldman TDS-spec short-wheelbase model, was powered by the company's familiar 2.8-litre charge-cooled diesel producing 100hp (75kW) at 3,400rpm and 1811bft (245Nm) of torque at 1,900rpm. The lightweight Fieldman was by far the quickest of our test vehicles off the blocks. Baulked only by a long throw gear lever the Daihatsu shot forward, even laden, but we didn't want to go too fast, because it was seriously let down in the steering and handling departments.
The power steering is very licht,
and somew lot vague. Combined with such a short
Payload potential is fine; if only there was enough room to get it all in. wheelbase this makes for somewhat jerky, floating travel. It is also particularly susceptible to side winds on bigger roads and demands quite a bit of correctional work to stay on the straight and narrow at motorway speeds. Unfortunately the driving experience is not a redeeming factor. The interior is, if anything, even more outdated than the body shape, and is outclassed by the Land Rover and the Ford. Hard, angular plastic mouldings rub against your leg and cheap-looking dials and controls offer little tactile pleasure.
The story at the rear is not much better. It was easy to access the loadspace, and with a payload of 850kg including a 75kg driver the Daihatsu is well ahead on carrying ability. The problem is that the loaclspace is only 1,100mm long with a paltry 920mm between the wheelarches. We were unable to get the full number of test weights into the Daihatsu as the floor space was too small, and while there may have been plenty of height available, stacking heavy bottles in a vehicle with a high centre of gravity did not seem like a good idea. That said we did complete the van economy route with a fair load on board and the Daihatsu split the other two with a fuel consumption figure of 27.7mpg (10.214/100km). Unfortunately it was not
enough to sway our testers.
So on to the rough, and it immediately became obvious why this 4x4 has such a loyal following. You don't want to be travelling too fast on rough roads, as the short wheelbase induces a lot of pitching, but show the Fieldman some serious off-roading and it just rolls up its sleeves and gets stuck in.
The Daihatsu took everything we could throw at it off-road and kept coming back for more. entry and exit angles and a plenty of pulling power for Its compact dimensions offer excellent good selection of gear ratios provide the sticky stuff. The Fieldman has an undeniable strength about it, but it is an almost agricultural strength. It feels like it could tackle the rough for many years, and is certainly a convinr_ing all-terrain vehicle
Sadly, times have moved on, and the Fieldman's price of £13,090 (ex-VAT) is a lot to ask when you consider the opposition.