Last chance for broken hearted haulier
6th June 1996
Page 16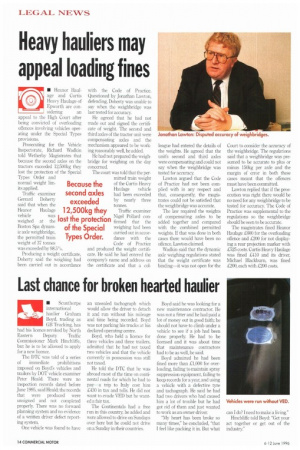 Page 16, 6th June 1996 —
Last chance for broken hearted haulier
Close
• Scunthorpe international haulier Graham Boyd, trading as GB Trucking, has had his licence revoked by North Eastern Deputy Traffic Commissioner Mark Hinchliffe, but he is to be allowed to apply for a new licence.
The DTC was told of a series of immediate prohibitions imposed on Boyd's vehicles and trailers by DOT vehicle examiner Peter Heald. There were no inspection records dated before June 1995, said Heald: the records that were produced were unsigned and not completed properly There was no forward planning system and no evidence of a written driver defect reporting system.
One vehicle was found to have an unsealed tachograph which would allow the driver to detach it and run without his mileage and time being recorded. Boyd was not parking his trucks at his declared operating centre.
Boyd, who held a licence for three vehicles and three trailers, admitted that he had not taxed two vehicles and that the vehicle currently in possession was still not taxed.
He told the DTC that he was abroad most of the time on continental roads for which he had to pay a trip to Italy cost him 1:430 in tax and tolls. He did not want to evade VED but he wanted a fair tax.
The Continentals had a free run in this country he added and were allowed to drive on Sundays over here but he could not drive on a Sunday in their countries. Boyd said he was looking for a new maintenance contractor. He was not a fitter and he had paid a lot of money out in good faith; he should not have to climb under a vehicle to see if a job had been done properly. He had to be licensed and it was about time that maintenance contractors had to be as well, he said.
Boyd admitted he had been fined more than £1,000 for overloading, failing to maintain spray suppression equipment, failing to keep records for a year, and using a vehicle with a defective tyre and tachograph. He said he had had two drivers who had caused him a lot of trouble but he had got rid of them and just wanted to work as an owner-driver.
"My heart has been broke so many times," he concluded, "that I feel like packing it in. But what
can I do? I need to make a living." Hinchliffe told Boyd: "Get your act together or get out of the industry."