Heavy hauliers may appeal loading fines
6th June 1996
Page 16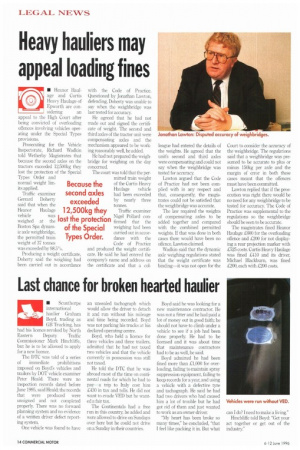 Page 16, 6th June 1996 —
Heavy hauliers may appeal loading fines
Close
• Heanor I laulage and Curtis Heavy Haulage of Epworth are con sidering an appeal to the High Court after being convicted of overloading offences involving vehicles operating under the Special Types provisions.
Prosecuting for the Vehicle Inspectorate, Richard Wadkin told Wetherby Magistrates that because the second axles on the tractors exceeded 12,500kg they lost the protection of the Special Types Order and normal weight limits applied.
Traffic examiner Gerrard Doherty said that when the Heanor Haulage
vehicle was weighed at the Boston Spa dynamic axle weighbridge, the permitted train weight of 37 tonnes was exceeded by 983%.
Producing a weight certificate. Doherty said the weighing had been carried out in accordance with the Code of Practice. Questioned by Jonathan Lawton, defending, Doherty was unable to say when the weighbridge was last tested for accuracy He agreed that he had not made out and signed the certificate of weight. The second and third axles of the tractor unit were compensating axles and the mechanism appeared to be working reasonably well, he added.
He had not prepared the weighbridge for weighing on the day concerned.
The court was told that the permitted train weight of the Curtis Heavy Haulage vehicle had been exceeded by nearly three tonnes.
Traffic examiner Nigel Pollard confirmed that the weighing had been carried out in accordance with the Cade of Practice and produced the weight certificate. He said he had entered the company's name and address on the certificate and that a col league had entered the details of the weights. He agreed that the unit's second and third axles were compensating and could not say when the weighbridge was tested for accuracy.
Lawton argued that the Code of Practice had not been complied with in any respect and that, consequently, the magistrates could not be satisfied that the weighbridge was accurate.
The law required the weights of compensating axles to be added together and compared with the combined permitted weights. If that was done in both cases there would have been no offence, Lawton claimed.
Wadkin said that the dynamic axle weighing regulations stated that the weight certificate was binding—it was not open for the Court to consider the accuracy of the weighbridge. The regulations said that a weighbridge was presumed to be accurate to plus or minus 150kg per axle and the margin of error in both these cases meant that the offences must have been committed.
Law-ton replied that if the prosecution was right there would be no need for any weighbridge to be tested for accuracy. The Code of Practice was supplemental to the regulations so the weighbridge should be seen to be accurate.
The magistrates fined Eleanor Haulage £600 for the overloading offence and 12200 for not displaying a rear projection marker with 1.:525 costs. Curtis Heavy Haulage was tined £410 and its driver, Michael Blackburn, was fined £200, each with £200 costs.