Head to head at the DOT
6th June 1996
Page 12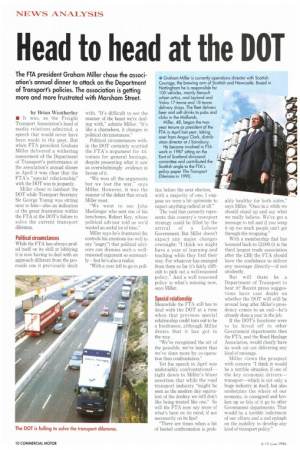 Page 12, 6th June 1996 —
Head to head at the DOT
Close
Keywords :
The FTA president Graham Miller chose the association's annual dinner to attack on the Department of Transport's policies. The association is getting more and more frustrated with Marsham Street.
by Brian Weatherley • It was, as the Freight Transport Association's head of media relations admitted, a speech that would never have been made in the past. But when FTA president Graham Miller delivered a withering assessment of the Department of Transport's performance at the association's annual dinner in April it was clear that the FTA's "special relationship" with the DOT was in jeopardy.
Miller chose to lambast the DOT while Transport Secretary Sir George Young was sitting next to him—also an indication of the great frustration within the FTA at the DOT's failure to solve the current transport dilemma.
Political circumstances
While the PTA has always prided itself on its skill at lobbying it is now having to deal with an approach different from the proroads one it previously dealt
with. "It's difficult to see the manner of the beast we're dealing with," admits Miller. "It's like a chameleon, it changes in political circumstances."
Political circumstances within the DOT certainly scuttled the PTA's argument for 44tonnes for general haulage, despite presenting what it saw as overwhelmingly evidence in favour of it.
"We won all the arguments but we lost the war," says Miller. However, it was the manner of the defeat that struck Miller most.
"We went to see John MacGregor who sent one of his henchmen, Robert Key, whose political advisor told us we'd wasted an awful lot of time."
Miller says he's frustrated (he controls his emotions too well to say "angry") that political advisors can dismiss such a wellreasoned argument so summarily—but he's also a realist.
"With a year left to go in poli
tics before the next election, with a majority of one, I suppose we were a bit optimistic to expect anything radical at ail."
The void that currently represents this country's transport strategy could be filled by the arrival of a Labour Government. But Miller doesn't expect any major changes overnight: "I think we might have a year of learning and teaching while they find their way. For whatever has emerged from them so far it's fairly difficult to pick out a well-reasoned policy." And a well reasoned policy is what's missing now, says Miller.
Special relationship Meanwhile the FTA still has to deal with the DOT at a time when that previous special relationship could turn out to be a hindrance, although Miller denies that it has got in the way.
"We've recognised the art of the possible, we've learnt that we've done more by co-operation than confrontation."
Yet his speech in April was undeniably confrontational— right down to Miller's blunt assertion that while the road transport industry "might be seen as the modern day equivalent of the donkey we still don't like being treated like one." So will the FTA now say more of what's been on its mind, if not necessarily on its lips?
"There are times when a bit of heated confrontation is prob ably healthy for both sides,says Miller. "Once in a while we should stand up and say what we really believe. We've got a message to tell and if you wrap it up too much people can't get through the wrapping."
With a membership that has bounced back to 12,000 (it is the third largest trade association after the CBI) the FTA should have the confidence to deliver any message directly—if not stridently.
But will there be a Department of Transport to hear it? Recent press suggestions have cast doubt on whether the DOT will still be around long after Miller's presidency comes to an end—he's already done a year in the job.
If the DOT's functions were to be hived off to other Government departments then the FTA, and the Road Haulage Association, would dearly have its work cut out delivering any kind of message.
Miller views the prospect with concern: "I think it would be a terrible situation if one of the key economic driverstransport—which is not only a huge industry in itself, but also underpins the whole of our economy, is consigned and broken up so bits of it go to other Government departments. That would be a terrible indictment of our efforts and a sad epitaph on the inability to develop any kind of transport policy."