EURO'NEWS
6th June 1996
Page 10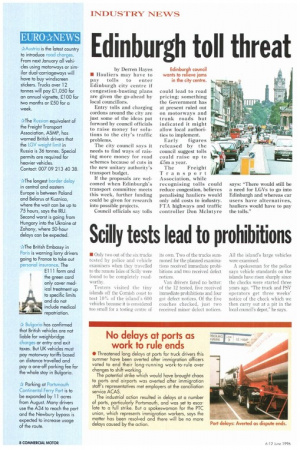 Page 10, 6th June 1996 —
EURO'NEWS
Close
Austria is the latest country to introduce road charges. From next January all vehicles using motorways or similar dual-carriageways will have to buy windscreen stickers. Trucks over 12 tonnes will pay El ,050 for an annual vignette, 2100 for two months or 250 for a week.
The equivalent of
the Freight Transport Association, ASMP, has warned British drivers that the LGV weight limit in Russia is 36 tonnes. Special permits are required for heavier vehicles.
Contact: 007 09 213 40 38.
..'The longest border delay in central and eastern Europe is between Poland and Belarus at Kuznica, where the wait can be up to 75 hours, says the IRU. Second worst is going from Hungary into the Ukraine at Zahony, where 50-hour delays can be expected.
-',.The British Embassy in Paris is warning lorry drivers going to France to take out personal insurance. The
El 1 1 form and the green card only cover medical treatment up to specific limits and do not include medical repatriation.
A Bulgaria has confirmed that British vehicles are not liable for weighbridge charges or entry and exit taxes. But UK vehicles must pay motorway tariffs based on distance travelled and pay a one-off parking fee for the whole stay in Bulgaria.
Parking at Portsmouth Continental Ferry Port is to be expanded by 11 acres from August. Many drivers use the A34 to reach the port and the Newbury bypass is expected to increase usage of the route.