Opinions from Others.
6th June 1912
Page 21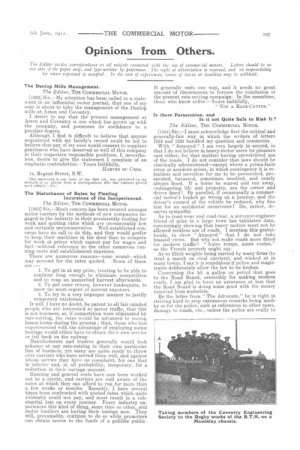 Page 22
Page 21, 6th June 1912 —
Opinions from Others.
Close
The Editoe invites correspondence ol all subjects connected with Me use of commercial motors. Letters .should be on one site of the paper only, and type-written by preference. The right of abbreviation is reserved, and no.respon.sibility for views expressed is accepted. In the case of experiences, names of towns or localities may be withheld,
The Dunlop Mills Management.
The Editor, THE COMMERCIAL MOTOR.
[1562] Sir,--14 attention has been called to a. statement in an influential motor journal, that one of my sons is about to take the management of the Dunlop mills at Aston and Coventry. I desire to say that the present management at Aston and Coventry is one which has grown up with the company, and possesses its confidence to a peculiar degree.
Although I find it difficult to believe that anyone acquainted with my family's record could be led to believe that any of my sons would consent to supplant gentlemen who have deserved so well of this company in their respective responsible positions, I, nevertheless, desire to give the statement I complain of an emphatic c,ontradietion.—Yours faithfully,
HARVEY DU GROS. 14, Regent Street., S.W.
[The statement, in our issoe of the 23rd nit., was published on the strength of cc advice frotn a correspondent who has hitherto proved most reliable.–En
The Disturbance of Rates by Fleeting Incursions of the Inexperienced. The Editor, THE COMMERCIAL MOTOR.
[1503] Sir,—Much concern has been. created amongst motor carriers by the methods of new companies engaged in the industry in their persistently touting for work and quoting rates which are unreasonably low and certainly unremunerative. .Well-established concerns have no call to do this, and they would prefer to keep their machines in the shed than to compete for work at prices which cannot pay for wages and fuel—without reference to the other numerous running costs and establishment expenses.
There are numerous reasons—none sound—which may account for the rates quoted. Some of these are :— 1. To get in at any price, trusting to be able to continue long enough to eliminate competition and to reap an unmerited harvest afterwards.
2. To get some return, however inadequate, to meet the most urgent of current expenses.
3. To try in a very improper manner to justify temporary existences.
It will, I have no doubt, be patent to all fair-minded people who are interested in inotor traffic, that this is not business, as, if competition were eliminated by rate-cutting, the rates would be advanced to recoup losses borne during the process ; then, those who had experimented with the advantage of employing motor haulage would either have to obtain their own service or fall back on the railway.
Manufacturers and traders generally would look askance at any rate-cutting in their own particular line of business, yet many are quite ready to throw over carriers who have served them well, and against whose service they have no complaint, for one that is inferior and, in all probability, temporary, for a reduction in their cartage account.
_Running and general costs have now been worked out to a nicety, and carriers are well aware of the rates at which they can afford to run for more than a few weeks or months. Recently, I have several times been confronted with quoted rates which quite evidently could not pay, and must result in a substantial loss on every journey. Every industry experiences this kind of thing, some time or other, and motor hauliers are having their innings now. They will, presumably, continue to do so while promoters can obtain access to the funds of a gullible public. It generally ends one way, and it needs no great amount of discernmentto foresee the conclusion ot the present rate-cutting campaign. In the meantime, those who know suffer.—Yours faithfully,
" NOT A RATE CUTTER."
Is there Persecution, and Is it not Quite Safe to Risk It?
The Editor, THE COMMERCIAL MOTOR.
[1564] Sir,—I must acknowledge first the critical and generally-fair way in which the writers of letters 1522 and 1523 handled my question and comments.
'With " Annoyed " I am very largely in accord, in that I do not believe in heavy-motor users (or pleasure cars either, for that matter) having unrestricted use of the roads. I do not consider that laws should be elastically administered—except where a prima-facie error or accident arises, in which contingency it is relentless and merciless for me to be persecuted, prosecuted, harassed, sometimes insulted, and nearly always fined. If a, horse be scared and run away, endangering life and property, are the owner and driver fined ? By parallel, if occasionally a commercial motor's brakes go wrong on a journey, and the driver's control of the vehicle be reduced, villy fine him for an accidental occurrence '1 He, rather, deserves sympathy.
As to road-wear and road-tear, a surveyor-engineer friend of mine in a large town has tabulated data, convincingly showing that heavy motors must not be allowed reckless use of roads. I mention this gratuitously, to show " Annoyed " that I do not take biassed views. But why not make roads more fitted for modern traffic? " Autre temps, autre routes," as the French proverb might say.
As to illicit weights being carried by many firms (to steal a march on rival carriers), and winked at in many towns, I say it is scandalous if police and magistrates deliberately allow the law to be broken. Concerning the ad. a, gallon on petrol that goes to the Road Board, ostensibly for making modern roads, I am glad to have an assurance at last that the Road Board is doing some good with the money extorted from motorists.
Re the letter from "The Advocate," he is right in striving hard to stop extraneous remarks being made by or for the police, such as references to other eases, damage to roads, etc., unless the police are really to
call evidence in proof. Mind you, everybody in Lancashire knows what objectionable vibration. is caused in roadside houses, by fast-moving commercial motors (on steel tires, most of all), and I fancy many magistrates sit on the Bench with antipathetic feelings.
A Fines Fund for Drivers cannot make drivers more careful, to my thinking. It may rather induce them to take risks, knowing that at the worst their own pockets will not unduly suffer. A Drivers' Union or Association should insist firmly on employers fitting speedometers. They help drivers.
I do not agree with any police solicitor being allowed to mention that the Drivers' Fines Fund re
lieves the poor chaps. I would, indeed, protest vehemently against any mention of it. The fact has nothing to do with an offence, and it simply looks like an attempt to prejudice the Bench.
Drivers deserve some sympathy. Their employers know that certain firms give glowing accounts of mileage per spent, low expense in running time between factory and city warehouse, and heavy loads. Each driver wants to prove that his vehicle is as good as any rival, and takes chances. I will tell you in a nutshell what a good deal of excessive weight carrying and illegal speed is due to : it pays. If a firm can carry over-weight for a month, and be caught once, does it not pay to take the risk ?
The fact that so many vehicles, a few years old, carry the weights they do, and can travel at the speeds they do, speaks well not only for the makers, but for the way the drivers " nurse " their machines. " Annoyed " wrote of blind justice. I hope he will not deny a claim—to be not blind, but just—to- Yours faithfully, " PUZZLED COUNCILLOR "