I NTEREST in drawbar operation is growing since it can provide
6th July 1985
Page 68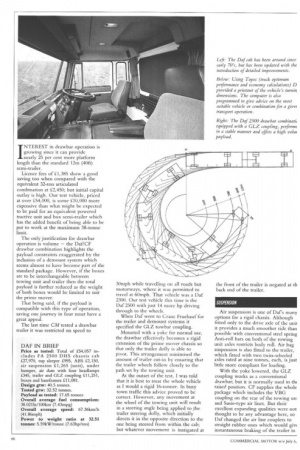 Page 69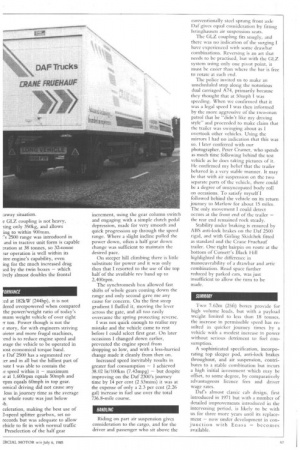 Page 68, 6th July 1985 —
I NTEREST in drawbar operation is growing since it can provide
Close
Keywords :
Land Transport
,
Trucks
,
Transport
,
Road Transport
,
Articulated Vehicles
,
Semi-trailer
,
Trailer
,
Tow Hitch
,
Dolly
,
Drawbar
,
Towing
,
Ballast Tractor
nearly 25 per cent more platform length than the standard 12m (40ft) semi-trailer.
Licence fees of £1,385 show a good saving too when compared with the equivalent 32-ton articulated combination at £2,450; but initial capital outlay is high. Our test vehicle, priced at over £54,000, is some £10,000 more expensive than what might be expected to be paid for an equivalent powered tractive unit and box semi-trailer which has the added benefit of being able to be put to work at the maximum 38-tonne limit.
The only justification for drawbar operation is volume — the Daf/CF drawbar combination highlights the payload constraints exaggerated by the inclusion of a demount system which seems almost to have become part of the standard package. However, if the boxes are to be interchangeable between towing unit and trailer then the total payload is further reduced as the weight of both boxes would be limited to suit the prime mover.
That being said, if the payload is compatible with this type of operation, saving one journey in four must have a great appeal.
The last time CM tested a drawbar trailer it was restricted on speed to 30mph while travelling on all roads but motorways, where it was permitted to travel at 60mph. That vehicle was a Daf 2300. Our test vehicle this time is the Daf 2500 with just 14 more hp driving through to the wheels.
When Daf went to Crane Fruehauf for the trailer and demount systems it specified the GLZ towbar coupling.
Mounted with a yoke for normal use, the drawbar effectively becomes a rigid extension of the prime mover chassis so that only the trailer dolly is able to pivot. This arrangement minimised the amount of trailer cut-in by ensuring that the trailer wheels follow closely to the path set by the towing unit.
At the outset of the test, I was told that it is best to treat the whole vehicle as I would a rigid 16-tonner. In busy town traffic this advice proved to be correct. However, any movement at the wheel of the towing unit will result in a steering angle being applied to the trailer steering dolly, which initially directs it in the opposite direction to the one being steered from within the cab; but whatever movement is instigated at
the front of the trailer is negated at th back end of the trailer.
SUSPENSION
Air suspension is one of Dafs many options for a rigid chassis. Although fitted only to the drive axle of the unii it provides a much smoother ride than possible with conventional steel spring Anti-roll bars on both of the towing unit axles restricts body roll. Air bag suspension is also fitted to the trailer, which fitted with two twin-wheeled axles rated at nine tonnes, each, is just little more compliant for loading.
With the yoke lowered, the GLZ coupling works as a conventional drawbar; but it is normally used in thi raised position. CF supplies the whole package which includes the VBG coupling on the rear of the towing un: and Susie-type air lines. But their excellent expanding qualities were not thought to be any advantage here, so Daf changed the air line couplers to straight rubber ones which would giv( instantaneous braking of the trailer in
:away situation.
e GLZ coupling is not heavy, ling only 350kg, and allows • ing to within 900mm.
7s 2500 range was introduced in and in tractive unit form is capable tration at 38 tonnes, so 32-tonne ,ar operation is well within its itre engine's capability, even ing for the much increased drag ;ed by the twin boxes — which ively almost doubles the frontal
ORMANCE :ed at 182kW (244hp), it is not dered overpowered when compared the power/weight ratio of today's mum weight vehicle of over eight ton. Power though is not the e story, for with engineers striving aieter and more frugal machines, .end is to reduce engine speed and nage the vehicle to be operated in lost economical torque band. e Dal 2500 has a segmented rev :er and in all but the hilliest part of >ute I was able to contain the .e speed within it — maximum Le at 1,600rpm equals 50mph and rpm equals 60mph in top gear. omical driving did not cause any loss in journey time as the average ie whole route was just below ,h.
celeration, making the best use of 2-speed splitter gearbox, set no records but was adequate to allow chicle to fit in with normal traffic Preselection of the half gear increment, using the gear column switch and engaging with a simple clutch pedal depression, made for very smooth and quick progression up through the speed range. Where a slight incline pulled the power down, often a half gear down change was sufficient to maintain the desired pace.
On steeper hill climbing there is little substitute for power and it was only then that I resorted to the use of the top half of the available rev band up to 2,40Orpm.
The synchromesh box allowed fast shifts of whole gears coming down the range and only second gave me any cause for concern. On the first steep gradient I fluffed it, moving the lever across the gate, and all too easily overcame the spring protecting reverse.
I was not quick enough to realise my mistake and the vehicle came to rest before I could select first gear. On later occasions I changed down earlier, prevented the engine speed from dropping so low, and with a less-hurried change made it cleanly from then on.
Increased speed inevitably results in greater fuel consumption — I achieved 38.02 lit/100km (7.43mpg) — but despite improving on the Daf 2300's journey time by 14 per cent (2 53mins) it was at the expense of only a 2.3 per cent (2.26 gal) increase in fuel use over the total 736.8-mile course.
HAWN
Riding on part air suspension gives consideration to the cargo, and for the driver and passenger who sit above the conventionally steel sprung front axle Daf gives equal consideration by fitting Isringhausen air suspension seats.
The GLZ coupling fits snugly, and there was no indication of the surging I have experienced with some drawbar combinations, Reversing is an art that needs to be practised, but with the GLZ system using only one pivot point, it must be easier than where the bar is free to rotate at each end.
The police invited us to make an unscheduled stop along the notorious dual carriaged A74, primarily because they thought that at 50mph I was speeding. When we confirmed that it was a legal speed I was then informed by the more aggressive of the two-man patrol that he "didn't like my driving style" and proceeded to make claim that the trailer was swinging about as I overtook other vehicles. Using the mirrors I had no indication that this was so. I later conferred with our photographer, Peter Cramer, who spends as much time following behind the test vehicle as he does taking pictures of it. Ide confirmed my belief that the trailer behaved in a very stable manner. It may be that with air suspension on the two separate parts of the vehicle, there could be a degree of unsyncopated body roll on occasions. To satisfy myself I followed behind the vehicle on its return journey to Marlow for about 45 miles. The only movement I could detect occurs at the front end of the trailer — the rear end remained rock steady.
Stability under braking is ensured by ABS anti-lock brakes on the Daf 2500 rigid, and with Girling Skidchek fitted as standard and the Crane Fruehauf trailer. One tight hairpin on route at the bottom of Consett's Black Hill highlighted the difference in manoeuvrability of a drawbar and attic combination. Road space further reduced by parked cars, was just insufficient to allow the turn to be made.
SUMMARY Two 7.62m (25ft) boxes provide for high volume loads, but with a payload weight limited to less than 18 tomes, the increase in permissible speed has resulted in quicker journey times by a vehicle with a modest increase in power without serious detriment to fuel consumption.
A sophisticated specification, incorporating top sleeper pod, anti-lock brakes throughout, and air suspension, contributes to a stable combination but incurs a high initial investment which may be offset, to some degree, by comparatively advantageous licence fees and driver wage rates.
Dat's almost classic cab design, first introduced in 1971 but with a number of detailed improvements introduced in the intervening period, is likely to be with us for three more years until its replacement — now under development in conjunction with Enasa — becomes available.