FINANCIAL MARKET
6th July 1985
Page 61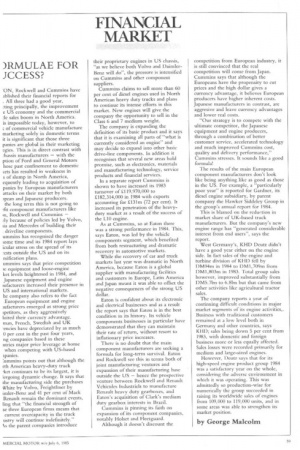 Page 61, 6th July 1985 —
FINANCIAL MARKET
Close
Keywords :
Transport
,
Land Transport
,
Volvo
,
Cummins
,
Trucking Industry In The United States
,
Renault
,
Truck
,
Diesel Engine
,
Ford Motor Company
,
Caterpillar Inc.
,
Navistar International
,
Deutz Ag
,
Business / Finance
)RMULAE FOR JCCESS?
'ON, Rockwell and Cummins have ablished their financial reports for . All three had a good year,
:ting principally, the improvement e US economy and the commercial :le sales boom in North America. is impossible today, however, to : of commercial vehicle manufacture marketing solely in domestic terms it is significant that those three panics are global in their marketing egies. This is in direct contrast with :hassis manufacturers — with the ption of Ford and General Motors hose past confinement to domestic ccts has resulted in weakness in s of slump in North America, equently leading to acquisition of panics by European manufacturers attacks on their market by both pear) and Japanese producers. the long term this is not going to !fit component manufacturers like in, Rockwell and Cummins ly because of policies led by Volvo, iia and Mercedes of building their . driveline components.
ummins has recognised the danger ;ome time and its 1984 report lays icular stress on the spread of its rests outside the US and on its rsification plans.
ummins says that price competition ie equipment and loose-engine ket levels heightened in 1984, and Japanese equipment and engine tufacturers increased their presence in US and international markets. he company also refers to the fact European equipment and engine mfacturers emerged as strong price ipetitors, as they aggressively loited their currency advantage. man, French, Swedish and UK .encies have depreciated by as much 0 per cent in the past four years, ng companies based in these ntrics major price leverage at home when competing with US-based ;ummins points out that although the rth American heavy-duty truck -ket continues to be its largest, it is lergoing dynamic change. It says that the manufacturing side the purchases White by Volvo, Freightliner by imler-Benz and 41 per cent of Mack Renault remain the dominant events, ling that "the financial strength of se three European firms means that current overcapacity in the truck ustry will continue indefinitely." ks the parent companies introduce their proprietary engines in US chassis, "as we believe both Volvo and DaimlerBenz will do", the pressure is intensified on Cummins and other component suppliers.
Cummins claims to sell more than 60 per cent of diesel engines used in North American heavy duty trucks and plans to continue its intense efforts in this market. New engines will give the company the opportunity to sell in the Class 6 and 7 medium weight.
The company is expanding the definition of its basic product and it says that it is examining all parts of "what is currently considered an engine" and may decide to expand into other basic drive-line components. In addition it recognises that several new areas hold promise, such as electronics, materials and manufacturing technology, service products and financial services.
In a separate report Cummins is shown to have increased its 1983 turnover of £119,970,000 to £182,314,000 in 1984 with exports accounting for £131rn (72 per cent). It increased its penetration of the heavyduty market as a result of the success of the L10 engine.
As at Cummins, so at Eaton there was a strong performance in 1984. This, says Eaton, was led by the vehicle components segment, which benefited from both restructuring and dramatic recovery in automotive markets.
While the recovery of car and truck markets last year was dramatic in North America, because Eaton is a global supplier with manufacturing facilities and customers in Europe, Latin America and Japan meant it was able to offset the negative consequences of the strong US dollar.
Eaton is confident about its electronic and electrical businesses and as a result the report says that Eaton is in the best condition in its history. Its vehicle components businesses in particular have demonstrated that they can maintain their rate of return, without resort to inflationary price increases.
There is no doubt that the main component manufacturers are seeking a formula for long-term survival. Eaton and Rockwell see this in terms both of joint manufacturing ventures and expansion of their manufacturing base outside the US — hence the prospective venture between Rockwell and Renault Vehicules Industriels to manufacture Renault heavy duty gearboxes, and Eaton's acquisition of Clark's medium duty gearbox interests in Brazil.
Cutnmins is pinning its faith on expansion of its component companies, notably Holset and Fleetguard.
Although it doesn't discount the competition from European industry, it is still convinced that the real competition will come from Japan. Cummins says that although the Europeans have the propensity to cut prices and the high dollar gives a currency advantage, it believes European producers have higher inherent costs. Japanese manufacturers in contrast, are aggresive and leave currency advantages and lower real costs.
"Our strategy is to compete with the ultimate competitor, the Japanese equipment and engine producers, through a combination of better customer service, accelerated technology and much improved Cummins cost, quality and delivery performance," Cumtnins stresses. It sounds like a good formula!
The results of the main European component manufacturers don't look like being anything like as good as those in the US. For example, a "particularly poor year" is reported for Gardner, its diesel engine subsidiary, by parent company the Hawker Siddeley Group in the group's annual report for 1984.
This is blamed on the reduction in market share of UK-based truck manufacturers. But the company's new engine range has "generated considerable interest from end users", says the report.
West Germany's, KHD Deutz didn't have a good year either on the engine side. In fact sales of the engine and turbine division of K HD fell by DM94m in 1984 to DM1,709tri from DM1,803m in 1983. Total group sales however, improved substantially from DM5.7bn to 6.8bn but that came from other activities like agricultural tractor sales.
The company reports a year of continuing difficult conditions in major market segments of its engine activities,. Business with traditional customers remained at a low level both in Germany and other countries, says KHD; sales being down 5 per cent from 1983, with domestic and foreign business more or less equally affected. Sales losses were recorded primarily for medium and large-sized engines.
However, Deutz says that for its high-speed engine product group 1984 was a satisfactory year on the whole, considering the adverse environment in which it was operating. This was admittedly so production-wise for numerically the group succeeded in raising its worldwide sales of engines from 109,000 to 119,000 units, and in some areas was able to strengthen its market position.
by George Malcolm