FASTER CROSSINGS
6th July 1985
Page 60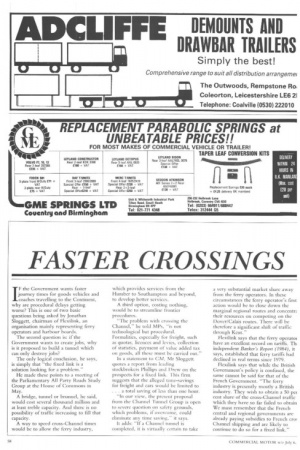 Page 60, 6th July 1985 —
FASTER CROSSINGS
Close
IF the Government wants faster Journey times for goods vehicles and coaches travelling to the Continent, why are procedural delays getting worse? This is one of two basic questions being asked by Jonathan Sloggett, chairman of Flexilink, an organisation mainly representing ferry operators and harbour boards.
The second question is: if the Government wants to create jobs, why is it proposed to build a tunnel which can only destroy jobs?
The only logical conclusion, he says, is simply that "the fixed link is a solution looking for a problem.
He made these points to a meeting of the Parliamentary All Party Roads Study Group at the House of Commons in May.
A bridge, tunnel or brunnel, he said, would cost several thousand million and at least treble capacity. And there is no possibility of traffic increasing to fill that capacity.
A way to speed cross-Channel times would he to allow the ferry industry, which provides services from the Humber to Southampton and beyond, to develop better services.
A third option, costing nothing, would be to streamline frontier procedures.
"The problem with crossing the Channel," he told MPs, "is not technological but procedural. Formalities, especially for freight, such as quotas, licences and levies, collection of statistics, payment of value added tax on goods, ail these must be carried out."
In a statement to CM, MT Sloggett quotes a report from leading stockbrokers Phillips and Drew on the prospects for a fixed link. This firm suggests that the alleged time-savings for freight and cars would be limited to . . . a total saving of less than one hour.
"In our view, the present proposal from the Channel 'Funnel Group is open to severe question on safety grounds, which problems, if overcome, could eliminate any time saving,it says.
It adds: "If a Channel tunnel is completed, it is virtually certain to take a very substantial market share away from the ferry operators. In these circumstances the ferry operator's first action would be to close down the marginal regional routes and concenm their resources on competing on the Dover/Calais routes. There will be therefore a significant shift of traffic through Kent,"
Flexilink says that the ferry operatot have an excellent record on tariffs. Th. independent Banker's Reporf (1984), it says, established that ferry tariffs had declined in real terms since 1979.
Flexilink says that while the British Government's policy is confused, the same cannot be said for that of the French Government. "The ferry industry is presently mostly a British industry. They wish to obtain a 50 pet cent share of the cross-Channel traffic which they have so far failed to obtain We must remember that the French central and regional governments are already paying subsidies to French cro2 Channel shipping and are likely to continue to do so for a fixed link.